George Zimmerman Sues Trayvon Martin's Family For $100 Million After Release Of Controversial Documentary 'The Trayvon Martin Hoax'!
by Tj Sotomayor
May 2, 2023
0 comments
He is suing for more than $100 million in damages.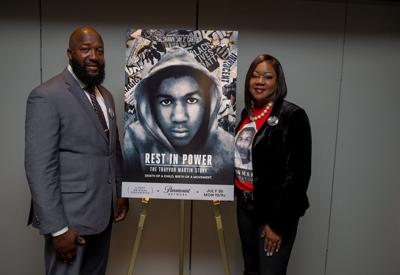 In a turn of events, the Florida man found not guilty of murdering a Black, unarmed teenager in one of the biggest civil rights cases of the century is now suing the victim's family over a conspiracy film that attests to a false witness at the trial.
The suit is in juxtaposition to newly discovered evidence just published in a book and film by Hollywood film director Joel Gilbert, entitled "The Trayvon Hoax: Unmasking the Witness Fraud that Divided America."
While the film was set to for a private film screening Thursday afternoon at the Coral Gables Art Cinema, the theater has since released a statement canceling the event – claiming it was unaware of all the details surrounding it.
Here It Goes
Shame on @gablescinema for hosting this disgraceful sham: George Zimmerman announces lawsuit against family of Trayvon Martin, publisher, prosecutors for $100 million with press conference and documentary screening at Coral Gables Art Cinema https://t.co/R2hOIjoVoN @mike23mena pic.twitter.com/V8LkdegSWC

— Billy Corben (@BillyCorben) December 4, 2019
Other groups have also spoken out against the law suit that George Zimmerman filed around noon today in Polk County, alleging that the prosecution's key witness in the 2013 murder trial of Trayvon Martin, Rachel Jeantel, was an imposter and a fake witness.
Here it goes
Now don't let them do the press conference on your property. https://t.co/tgSrpdgBmP

— Dream Defenders (@Dreamdefenders) December 4, 2019
The complaint also alleges defamation by the Martin family attorney Benjamin Crump, and goes on to claim the attorney produced a recorded audiotape of a conversation held between Martin and Diamond Eugene, whom he identified as Trayvon's 16-year-old girlfriend, moments before the altercation and presented this evidence a week after police had closed the case as self-defense.
Rachel Jeantel, 18, appeared before prosecutors two weeks later identifying herself as Diamond Eugene, in which the complaint alleges she provided false statements to incriminate Zimmerman based on coaching from others.
Defendants in the suit include Trayvon's mother and Miami-Dade Commissioner candidate Sybrina Fulton, her ex-husband Tracy Martin, Crump, the Florida prosecutors for the case and Florida Department of Law Enforcement – all of whom are alleged to know about the imposter witness.
Zimmerman, who was found not guilty, is suing the parties mentioned for damages that total more than $100 million.
Crump issued the following statement in response to the suit:
"I have every confidence that this unfounded and reckless lawsuit will be revealed for what it is – another failed attempt to defend the indefensible and a shameless attempt to profit off the lives and grief of others.
"This plaintiff continues to display a callous disregard for everyone but himself, revictimizing individuals whose lives were shattered by his own misguided actions. He would have us believe that he is the innocent victim of a deep conspiracy, despite the complete lack of any credible evidence to support his outlandish claims.
"This tale defies all logic, and it's time to close the door on these baseless imaginings."