After Appearing On His Show, Comedian Mo'Nique Now Slams Steve Harvey Calling Him A Sellout! Do You Agree? (Live Broadcast)
by Tj Sotomayor
February 17, 2019
0 comments
She Can't Get Out Of Her Own Way!
Precious actress Mo'Nique is continuing her feud with talk show host Steve Harvey. After appearing on his show Wednesday to talk about previous comments—where, in short, she said she was blackballed by heavy hitters in the entertainment industry—Mo'Nique took to Instagram on Friday to accuse Harvey of being a "sellout."
She wrote the words "Selling Out" and then added the description: "A common idiomatic pejorative expression for the compromising of a person's integrity, morality, authenticity, or principles in exchange for personal gain, such as money. In terms of music or art, selling out is associated with attempts to tailor material to a mainstream or commercial audience."
To make it unmistakable she was speaking about her earlier conversation with Harvey, Mo'Nique posted a clip from his show. " THIS GAVE ME CHILLS! WHAT HAS CHANGED," she wrote in the caption. "Y'all I LOVE US 4 REAL!!! WE DESERVE TO LOVE US BETTER!"
In a second post, she shared footage from legendary boxer Muhammad Ali, where he talked about not selling out—no matter how much money it might cost him. "As of now, money means nothing to me, nor boxing, when it comes to the freedom of your people," he says in the video. "I'll be happy because I can go to bed, my conscience is clear, and I didn't sell out or trade my people just because I can be rich in Hollywood with a yacht out here… but I wouldn't want that damned yacht if I couldn't go back over in the black neighborhood and protest a black woman being raped. The jell with your yacht; the hell with the championship."
therealmoworldwide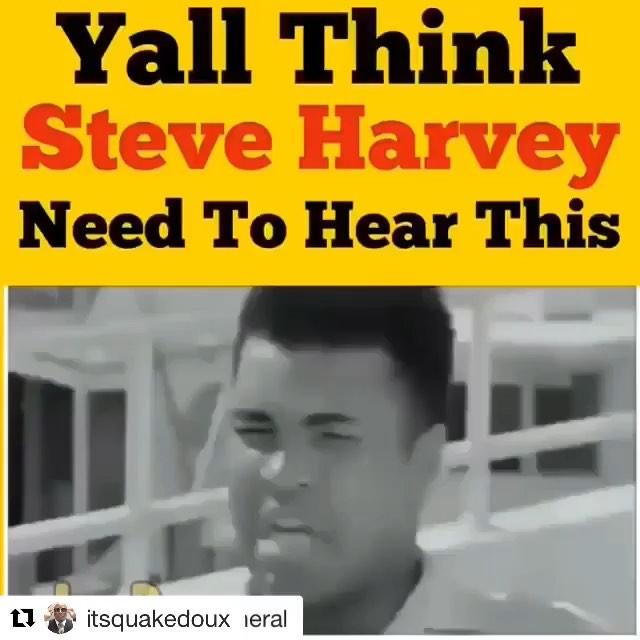 I JUST HAD TO REPOST THIS. THIS IS FOR ANYBODY PUTTING MONEY FIRST AND NOT THE LOVE OF YOUR PEOPLE. I LOVE US FOR REAL!!!!!!
Mo'Nique said she thinks Steve Harvey needs to hear Ali's quote and added in her caption: "I JUST HAD TO REPOST THIS. THIS IS FOR ANYBODY PUTTING MONEY FIRST AND NOT THE LOVE OF YOUR PEOPLE. I LOVE US FOR REAL!!!!!!"
The drama between the two started when Harvey claimed Mo'Nique had "burned too many bridges." In 2015, the star told The Hollywood Reporter that people like Lee Daniels, Tyler Perry, and Oprah Winfrey had blackballed her. He added that she went about things the "wrong way," and cited the time she asked people to boycott Netflix in 2018. She was paid $500,000 for her comedy special, while Amy Schumer was given $13 million by the streaming giant.
"The two problems we had," Harvey started. "No. 1, the boycott of Netflix, we never gave people a point of action … the second problem with me was that the problem you had with Netflix is rich people problems."
But Mo'Nique disagreed. "Inequality is devastating and it's extreme," she said. "When people said, 'Mo'Nique, do you think calling a boycott on Netflix is extreme?' You're damn right. Isn't inequality extreme? We got to get to a place where we are unafraid to say it aloud."