Jerry Springer Sets Internet On Fire After Death Leaving His 2 Secret Biracial Children Most Of His Fortune! (Live Broadcast)
by Tj Sotomayor
May 16, 2023
0 comments
Internet duped by Jerry Springer will-reading video
In a video circulating on social media, Springer says that he's fathered two secret children – and he's leaving them his entire fortune.
Jerry Springer has been laid to rest in a private funeral service, but plans are also underway for a public memorial.
It's a plot that seems ripped from a particularly scandalous episode of The Jerry Springer Show: The late talk show host, revealing from beyond the grave that he's fathered two secret children – and he's leaving them almost his entire fortune.
But not all is as it seems with this video of Springer doing the rounds on social media today, and duping many of those who watch it.
The king of trash TV died last month aged 79, a few months after being diagnosed with pancreatic cancer.
The video circulating online appears to lift the lid on some Springer family secrets, with Springer seen reading out his will before his death. On the right hand of the screen, five other people watch the will reading as it is played. Top right is the family lawyer, below him are Springer's two daughters, and below them are two other children Springer fathered in secret.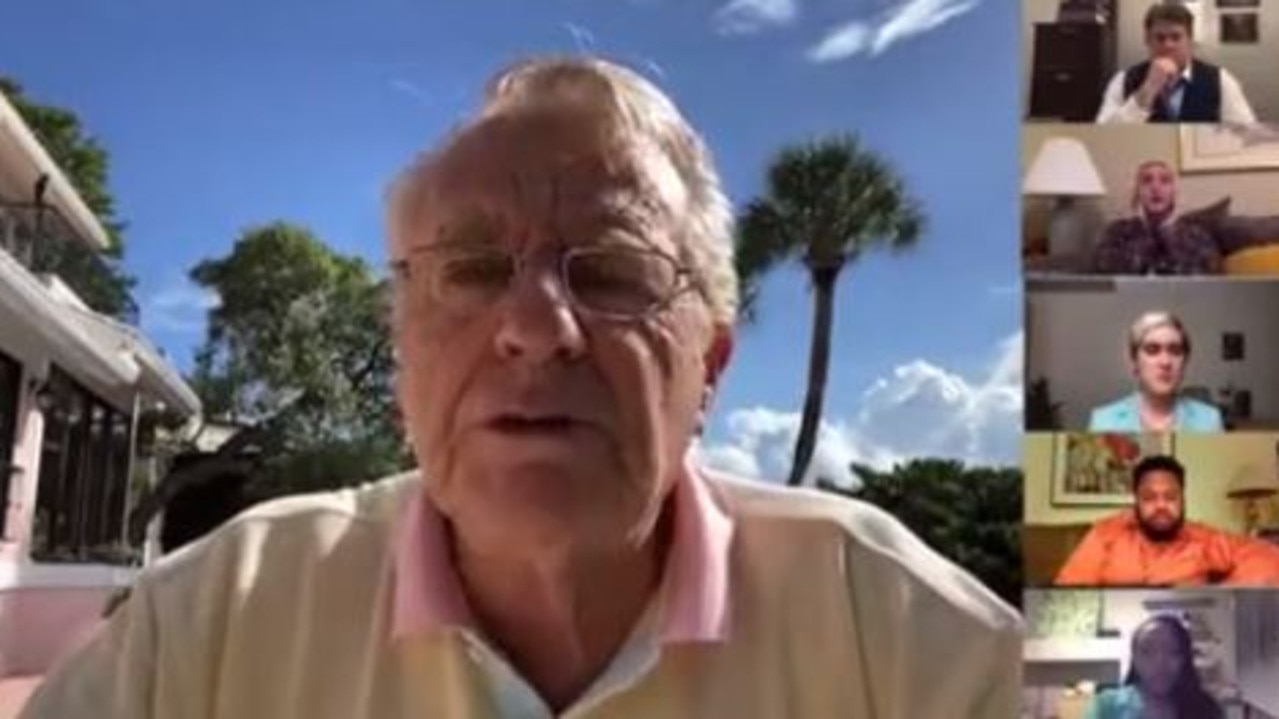 Jerry Springer's 'will reading' circulating online.
There's just one problem: Everyone – Springer included – is acting.
"Joan kept me away from you with the threat of exposure, but she did not keep me from providing for you," Springer announces. "Jordan, Meagan – I leave our home here in New Orleans to you, to do with whatever you want. The rest of my estate, my properties in Mississippi, Georgia, South Carolina, my bank account, investment portfolios, all liquid and intangible assets … everything. All of it will go to my children, John and Misha.
"My entire estate belongs to John and Misha, and it is up to them to do with what they will. It is truly the least I can do, as I and this country have failed you, and hopefully one day America will do what's right as well."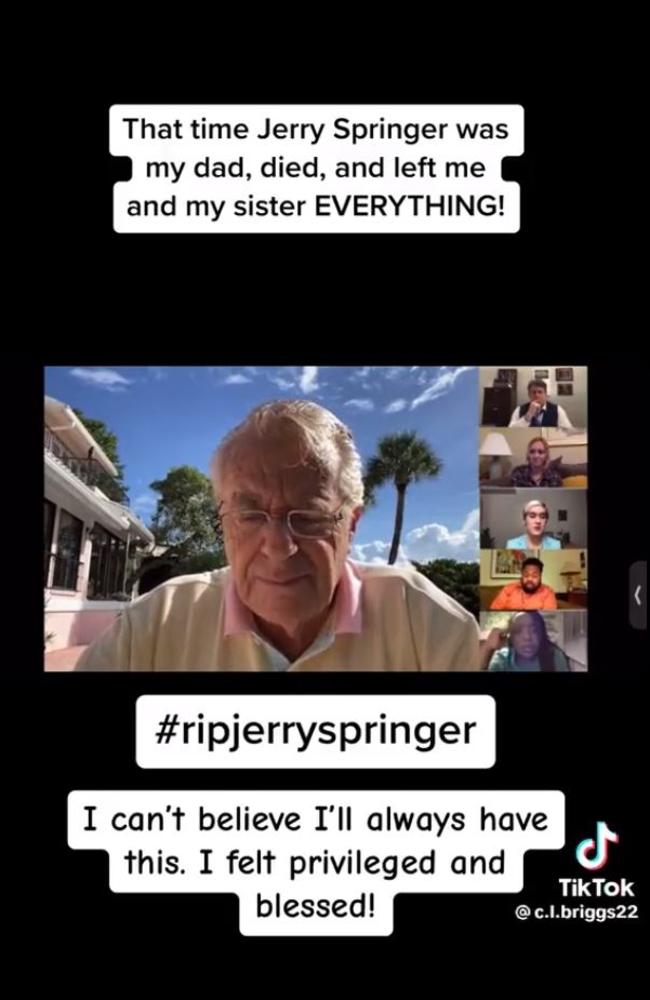 Actor Carl Briggs shared the clip with this rather ambiguous caption.
As the video circulated today, many expressed their shock at what it appeared to show.
"Jerry Springer left all his property and investment accounts to his two black (biracial) children we never knew he had. His wife told him to never see them that's crazy! My mind blown," one person tweeted.
"Wow so Jerry had two other kids, and his wife kept him away by threatening to expose him … He left everything to the two kids he never got a chance to take care of …" said another.
But Springer didn't have a wife named "Joan," and no daughters named Jordan and Megan. In fact, he was survived by just one child, daughter Katie, who he had with ex-wife Micki Velton.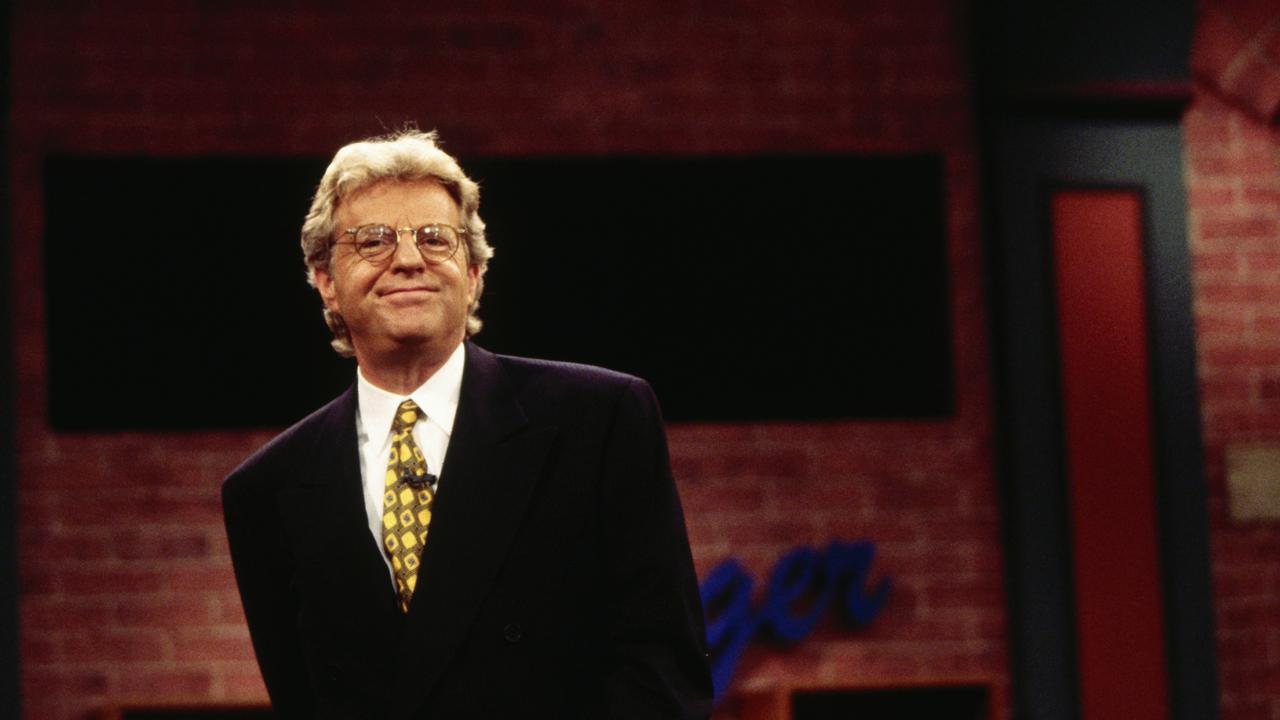 On the set of The Jerry Springer Show. Picture: Getty
The original clip reveals what's really going on: Posted by actor Carl Briggs on TikTok today, it gives the key context that Springer was in fact participating in a reading of a play called Blood Money, written by Lori Parquet. Briggs played John in the reading, while Springer played his father, reading out his will and exposing some family secrets at the same time. The play reading was filmed well before his death, with a teaser clip posted to YouTube in 2020.
"Jordan and Meagan have signed on to a Zoom meeting with attorney Bradford Young, to hear their father's last will and testament … in the middle of a pandemic. Feelings erupt, ugly pasts get brought to surface, and these two sisters get much more than they bargained for with their inheritance," the blurb for the play teases.
But even under Briggs' TikTok, there's still much confusion about whether or not what people are watching is actually from Springer's own life.
"Jerry really went out like The Jerry Springer show!" wrote one person.
"Guys THIS IS NOT REAL. This is a play!" said another.
Celebrity deaths 2023
Start
Remembering the famous faces farewelled this year
While he may not be splitting his fortune between four fictional children, sources estimate that the value of Springer's real-life estate ranged from between $90 to $113 million.
More Coverage
Jerry Springer's eye-watering net worth
Jerry Springer's cause of death revealed
"Jerry's ability to connect with people was at the heart of his success in everything he tried whether that was politics, broadcasting or just joking with people on the street who wanted a photo or a word," his family said in a statement at the time.
"He's irreplaceable and his loss hurts immensely, but memories of his intellect, heart and humour will live on."