NFL Great Michael Irvin Sues Women For $100 Million Dollars Over Lies About Super Bowl Hotel Misconduct!
by Tj Sotomayor
February 10, 2023
0 comments
Michael Irvin sues woman for $100 million over Super Bowl hotel misconduct accusations
Michael Irvin sent home by NFL Network from Super Bowl after woman's complaint
Michael Irvin sent home by NFL Network from Super Bowl after woman's complaint
Former Cowboys receiver Michael Irvin was sent home by the NFL Network from Super Bowl after a woman's complaint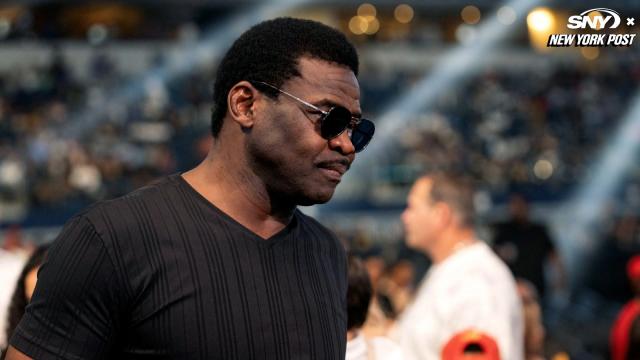 Michael Irvin sent home by NFL Network from Super Bowl after woman's complaint
Michael Irvin has filed a $100 million lawsuit against the female employee who accused him of alleged misconduct during an interaction at a Glendale hotel on Sunday night, which led to NFL Network removing him from its Super Bowl 2023 coverage.
In the lawsuit, filed on Thursday and obtained by TMZ, the Hall of Fame wide receiver accused the hotel's management and its employees of making him the victim of "cancel culture," and alleged he's being "railroaded" with false accusations.
"Rash and thoughtless actions can have severe consequences," the lawsuit reads. "Marriott apparently did not appreciate these simple truths when, in a rush to judgment, its employees and management inaccurately and inflammatorily accused Mr. Irvin of misconduct to the National Football League."
Earlier this week, Irvin, who currently serves as an analyst with NFL Network and appears on ESPN's "First Take," told the Dallas Morning News that there "absolutely was no sexual wrongdoing" — and that he had a "45-second conversation" with the woman, whom he shook hands with, in the lobby of the hotel.
During a separate interview with "Shan & RJ" on 105.3 the Fan in Dallas on Wednesday morning, the former Cowboys star explained that he was told he had to move to a different hotel due to his encounter with the woman — which occurred after Irvin said he returned from having dinner and a few drinks with former Cowboy Michael Brooks.
According to the lawsuit, multiple witnesses, seen with Irvin in a photo obtained by TMZ, corroborated Irvin's initial claim that he "casually exchanged pleasantries" with the female employee, "Jane Doe," and "shook her hand, and went to his room alone."
The lawsuit states that when Irvin and his team became aware of the allegations, they attempted to provide witness accounts to the hotel to rectify the situation, which they alleged the hotel staff refused to listen.
The lawsuit goes on to accuse the hotel's manager of reporting the alleged incident to the NFL "with the intention of damaging that relationship and canceling [Irvin]."
Details of the woman's allegations are not publicly known.
Irvin's attorney, Levi McCathern told TMZ that his client's reputation has been damaged and that Irvin has lost out on money and canceled appearances as a result of the false allegations.
"It is clear Michael is the latest victim of our cancel culture where all it takes is an accusation to ruin a person's life," McCathern said. "Michael looks forward to clearing his name in court and hopes the Court of public opinion will see the truth come out as well."
310
What do you think? Post a comment.
NFL Network spokesman Alex Reithmiller said in a statement to The Post that "Michael Irvin will not be part of the NFL Network's Super Bowl LVII week coverage."
Irvin will not make his regular Friday appearance on ESPN's "First Take."
Prior to news of the incident being made public, Irvin covered Opening Night at Super Bowl 2023 on Monday, and appeared on "First Take."