Black Women Want Little Mermaid Star Halle Bailey To Dump Her Black Boyfriend For White Co-Star! (Live Broadcast)
by Tj Sotomayor
May 17, 2023
0 comments
Fans Wishing 'Little Mermaid' Star Halle Bailey Would Dump Her Boyfriend For Her Co-Star May Have Manifested Their Breakup
Are Halle Bailey and DDG really over?
By Nia Tipton — Written on May 17, 2023
Photo: DFree, Kathy Hutchins & Loredana Sangiuliano / Shutterstock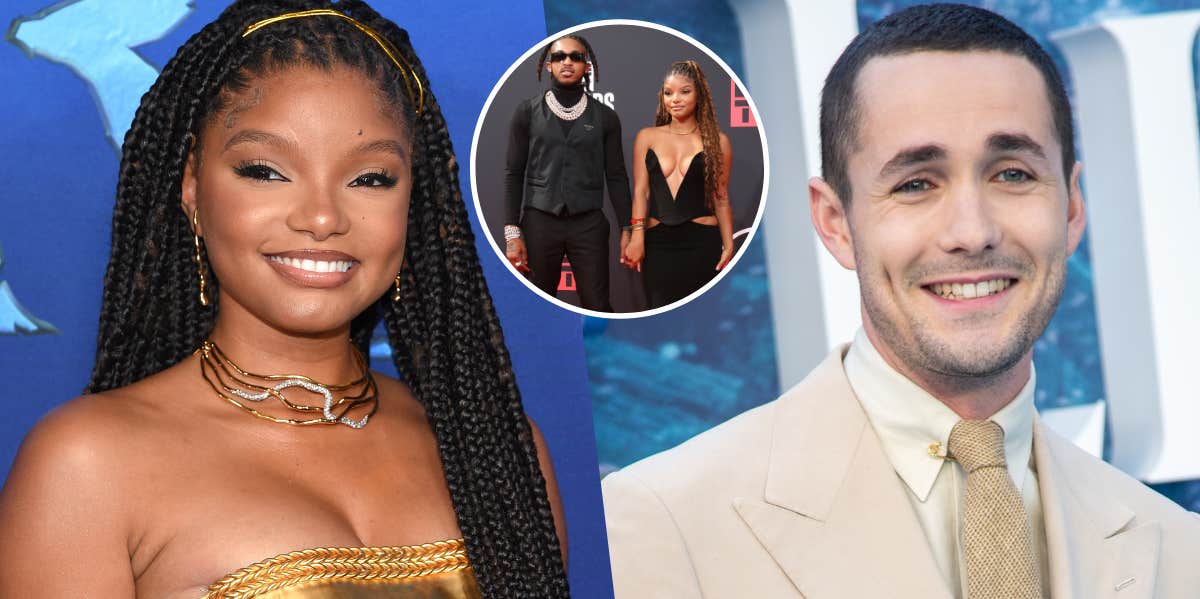 It seems Halle Bailey and her boyfriend may have called it quits, at least according to fan speculation.
Bailey and her rapper boyfriend DDG, whose real name is Darryl Dwayne Granberry Jr., have been together since January 2022 when they initially sparked relationship rumors after being seen together at Usher's Las Vegas residency.
The couple eventually confirmed their relationship following DDG's birthday tribute to Bailey that March. However, it seems after over a year together, Bailey and DDG may no longer be together.
Did Halle Bailey and DDG break up?
Neither Bailey nor DDG has confirmed a breakup, but it hasn't stopped fans from theorizing, especially after noticing that the two no longer follow each other on Instagram.
Bailey and DDG are no longer following each other on social media amid breakup rumors.
The couple unfollowing each other happened after DDG was photographed at 'The Little Mermaid' premiere in Los Angeles on May 8. The pair were not snapped together, and both walked the red carpet separately.
RELATED: Why People Hate Matty Healy — A Timeline Of Taylor Swift's Rumored Boyfriend's Many Controversies
https://www.tiktok.com/embed/v2/7233908615730433323?lang=en-US&referrer=https%3A%2F%2Fwww.yourtango.com%2Fentertainment%2Fhalle-bailey-ddg-break-up
Fans also accused DDG of attempting to "steal" Bailey's moment after tweeting in a since-deleted post that he had never seen the animated movie despite his girlfriend starring as Ariel in the highly-anticipated live-action film.
"Should I watch the cartoon of The Little Mermaid before I watch the live-action version? Or just watch the new one. I['ve] never seen it," the rapper wrote, which seemed to anger Bailey's fans, who claimed that he was being incredibly unsupportive.
Fans also noticed that DDG threw a bit of shade toward Bailey's co-star Jonah Hauer-King after social media users pointed out the close bond Bailey and Hauer-King have had throughout the press for 'The Little Mermaid.'
On his burner account, which people found after DDG posted about it on his main account, the rapper attempted to stick up for himself while also bashing Hauer-King, writing as if he wasn't talking about himself, "They really think this [man] got the willpower to take DDG['s] [girl]. He's not him."
RELATED: Nicholas Braun Confirms He's In A Relationship While Avoiding Addressing Allegations From His Controversial Past
Recently, Bailey and her 'Little Mermaid' co-star have sparked dating rumors.
Bailey's fans seem to be over her relationship with DDG and instead have begun shipping her and her co-star Jonah Hauer-King, who stars opposite Bailey as Prince Eric in the live-action adaptation.
Most notably, many of Bailey's fans were awed at Hauer-King's retelling of his first time meeting the actress, which he spoke about on the red carpet for 'The Little Mermaid' premiere.
"Probably the first time I met her which was at the screen test. I did my reading with her, then sang a song and left," Hauer-King revealed at the Los Angeles premiere. "I went back to my trailer, there was a knock on the door and I opened it and it was Halle."
https://www.tiktok.com/embed/v2/7231108933362945322?lang=en-US&referrer=https%3A%2F%2Fwww.yourtango.com%2Fentertainment%2Fhalle-bailey-ddg-break-up
RELATED: Why Fans Think Bad Bunny & Kendall Jenner Are Faking Their Romance For PR—And That He's Secretly Still With His Ex
He continued, saying that Bailey had come and kindly complimented him on his audition. "It was just so simple but so gracious, and obviously I didn't know if she had done that with all of the guys that were auditioning. Turns out she didn't."
"It just said something about her, her kindness, and her friendliness and being very supportive of me," Hauer-King gushed. In the comments section, people pointed out the lovely way in which Hauer-King spoke about Bailey and also speculated on the chemistry between them.
Hauer-King has spoken about his close friendship with Bailey in several other interviews, including a recent one with Evening Standard. "She's so great," he told the publication of Bailey.
"Halle looked after me. I tried to look after her – not that she needed it – but I really leaned on her a lot. She felt like a sister to me at the end of it and still does."
DDG was previously accused of cheating on Bailey with his ex-girlfriend Rubi Rose.
Back in February 2023, DDG and Bailey were embroiled in a bit of drama with DDG's ex-girlfriend, rapper Rubi Rose, who claimed that she had been speaking to DDG despite him still being with Bailey, according to BuzzFeed.
It started after fans first started speculating on whether Bailey and DDG had broken up after noticing the rapper had deleted all of the photos he had with Bailey from his Instagram feed. Shortly after, DDG unfollowed Bailey and posted a cryptic story that read: "All these girls are the same … ain't no way."
However, DDG attempted to dispel all of the rumors, letting his fans on Twitter know that the "Internet [is] so gullible," before adding that "nobody cheated on nobody. Don't take my tweets too serious."
RELATED: Inside Frank Ocean's Secretive Love Life— Everyone He Is Rumored To Have Dated
https://www.tiktok.com/embed/v2/7199407667746475310?lang=en-US&referrer=https%3A%2F%2Fwww.yourtango.com%2Fentertainment%2Fhalle-bailey-ddg-break-up
Unfortunately, DDG was not in the clear, and things quickly took a turn after Rubi Rose, who dated DDG from 2020 to 2021, tweeted that Bailey had been wearing her clothes. "Having [your] b-tch wear my clothes is crazy," she wrote.
Related Stories From YourTango:
The Actual Reason Kim Kardashian & Tom Brady Have Been In Touch — Inside The Luxury Resort Where Kim Is Looking To Buy Property
Bride Goes Against 'Conservative' Mother's Request And Wears A Sheer Wedding Dress — 'Your Day, Your Way'
A Woman's Daughter Has Been Telling Her About A Hungry Classmate Who Never Has Lunch—When She Tried To Help, The School Got In Her Way
Rose also didn't stop there, and leaked a DM she had allegedly gotten from DDG from around the time he deleted all of the photos of Bailey from his Instagram.
In the leaked messages, DDG asked Rose to hang out, to which Rose replied, "[You] hitting me the day y'all argue is so [you," most likely referring to him and Bailey. DDG agreed with Rose, and joked that he needed to "go heal first."
Following the leaked messages, DDG denied ever messaging his ex-girlfriend, and the two were engaged in a heated Twitter back-and-forth that has since been deleted. While Bailey had remained silent, she eventually shared her thoughts on all of the cheating rumors.
"The devil is working," the singer wrote in a now-deleted tweet. "Lol, please don't feed into the lies, especially from a third party."
While the future of DDG and Bailey's relationship is still unclear, it seems that fans won't be too disheartened to see the couple go their separate ways.