Jerry Jones & NFL Owners Were Right! Blacks Need To Stop Complaining & Start Their Own League! (Live Broadcast)
by Tj Sotomayor
September 16, 2023
0 comments
Roger Goodell responds to NFL Media lawsuit that includes Cowboys owner Jerry Jones, Bills owner Terry Pegula
Trotter filed a discrimination and retaliation lawsuit against the league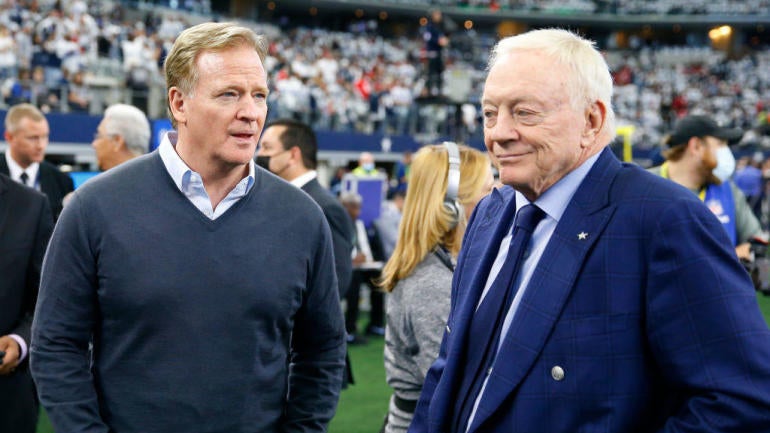 Jim Trotter, who previously worked for NFL Media, has filed a discrimination and retaliation lawsuit against the NFL and his former company, per Wigdor Law. Trotter claims that he repeatedly called out the league for not addressing, "long-standing, institutional discrimination within the coaching ranks, the NFL league office and NFL Media newsroom," and that it affected his own employment.
Trotter claims he was told there was no reason his contract with NFL Media would not be renewed earlier this year, but after challenging NFL commissioner Roger Goodell on systemic race discrimination, things changed. Trotter claimed he was later asked if he was "in alignment" with the NFL, and did not receive the new contract he was expecting.
In Trotter's filing, he includes specific claims against Dallas Cowboys owner Jerry Jones and Buffalo Bills owner Terry Pegula, claiming they made racially insensitive remarks. Trotter said he had a conversation with Jones in 2020 regarding the lack of Black professionals in decision-making positions in the league. Jones then allegedly replied:
"If Blacks feel some kind of way, they should buy their own team and hire who they want to hire."
Trotter also brought up a 2020 Zoom call that had several members of NFL Media in attendance, where on the subject of player protests against racial injustice, Pegula allegedly said:
"If the Black players don't like it here, they should go back to Africa and see how bad it is."
During an appearance on ESPN's "First Take" this week, commissioner Goodell was asked about the alleged inappropriate comments.
"They're allegations," Goodell said, via Pro Football Talk. "Our job is to make sure that they're factual. These are not new charges. They're actually a couple of years old. They've been looked into. You've heard the strong denials. There's litigation ongoing now. It will be addressed because these are important issues and we share the same concerns. We want to make sure our workplaces are first class and that means opportunities for everybody. We know the importance of progress in diversity and we're working very hard at it. Is progress where we want it to be? No, it's always slower than you want it to be but I'm confident we're moving in the right direction."
Both Jones and Pegula disputed Trotter's claims. In a statement, via CBS News, Jones said, "diversity and inclusion are extremely important to me personally and to the NFL. The representation made by Jim Trotter of a conversation that occurred over three years ago with myself and our VP of Player Personnel Will McClay is simply not accurate."
Pegula also refuted Trotter's story, saying it was "absolutely false," and wrote in a statement posted on social media, "I am horrified that anyone would connect me to an allegation of this kind. Racism has no place in our society and I am personally disgusted that my name is associated with this complaint."
The NFL released a statement of their own regarding the recent filing:
"We share Jim Trotter's passion for quality journalism created in and supported by a diverse and inclusive environment," the NFL said. "We take his concerns seriously, but strongly dispute his specific allegations, particularly those made against his dedicated colleagues at NFL Media."
Trotter says he has filed this lawsuit because he can't complain about things that are wrong if he's, "unwilling to fight for what is right."
"I hope this lawsuit leads to real change across the league and in the newsroom," Trotter said in a statement. "It is on the backs of a majority Black player population that owners have made billions and those players deserve to have someone who shares their cultural and life experiences at the table when decisions are being made about how they are being covered."