Ja Morant Suspended After Caught Flashing Gun Again On IG Live, WTF Is Wrong With These Dumb Niggaz? (Live Broadcast)
by Tj Sotomayor
May 14, 2023
0 comments
Ja Morant appears to flash gun in Instagram Live video again two months after strip club incident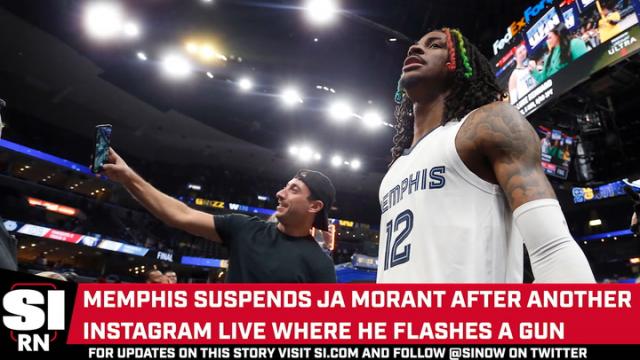 Ja Morant Has Been Suspended From All Grizzlies Activities After Latest Gun Video
An Instagram Live video from Saturday showed Memphis Grizzlies star Ja Morant appearing to hold a gun in a car, more than two months after he flashed a gun during an Instagram Live video in a Denver-area strip club that led an eight-game suspension.
In clips captured on social media from an Instagram Live by the account "_dtap2," Morant is briefly shown holding what appears to be a gun before the video cuts away from him.
Morant was suspended from all Grizzlies activities on Sunday.
On March 4, the 23-year-old guard was seen on Instagram Live brandishing a gun at Shotgun Willie's in Glendale, Colo.
Morant, who said the gun wasn't his, left the team and entered a counseling program and was later given the eight-game ban by the NBA.
Glendale Police said in March "there was not enough available evidence to charge anyone with a crime" after investigating the incident.
"It's not who I am. I don't condone any type of violence, but I've taken responsibility for my actions," Morant told NBA analyst and Post columnist Jalen Rose on ESPN on March 15.
Warning: Graphic language
 

 

 

View this post on Instagram

 

 
SEE ALSO
Morant also said he was "gonna show everybody who Ja really is, what I'm about and change this narrative that nobody got painted over me."
NBA commissioner Adam Silver commented on the incident after Morant was suspended.
"Ja's conduct was irresponsible, reckless and potentially very dangerous," Silver said in a statement. "It also has serious consequences given his enormous following and influence, particularly among young fans who look up to him.
"He has expressed sincere remorse for his behavior. Ja has also made it clear to me that he has learned from this incident and that he understands his obligations and responsibility to the Memphis Grizzlies and the broader NBA community extend well beyond his play on the court."
Morant played eight regular-season games after returning from his suspension and played in five of six games during the second-seeded Grizzlies' first-round loss to the Lakers, missing a Game 2 win with a hand injury.
22
What do you think?
Morant averaged 24.6 points, 7.0 assists and 6.8 rebounds in the series.