BT-1000 Shares Post Saying Never Let A Man Hit You Then She Went On To Carve Up Her Boyfriend Leaving Him Dead In The Streets! (Video)
by Tj Sotomayor
July 24, 2019
0 comments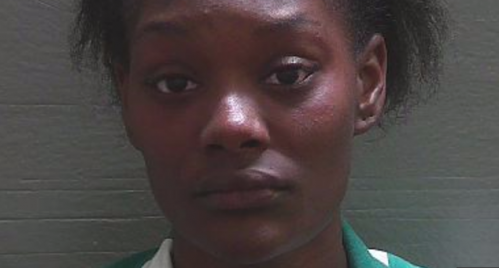 Being in an intimate relationship with a black woman can be deadly!
Rather its diseases or just plain ole violence from the other dudes she has been with you never really know what you sign up for when you get with one.
In most cases though, the violence you will get will come right at her hands as this man had happen to him at the end of a knife carrying b*tch who decided to tell facebook about her crime before doing it!
Minutes before a Florida woman allegedly killed her boyfriend she reportedly wrote a Facebook post warning other women never to let a man "put his hands on you," police have said.
According to the Pensacola News Journal, Jaquoia Xiaxiana Collins took to social media roughly 20 minutes before she allegedly stabbed her boyfriend Quartez McShane in the Wild Oak Farms Apartments in Cantonment, Florida. He later died of his injuries in hospital.
"Ladies, NEVERRRR let a Boy put his hands on You cs a Real MAN ain't Going for it," the 24-year-old suspect wrote on Facebook in now deleted posts.
After making the initial post at 11:19 p.m. on Saturday, Collins then added another message later that evening. "N***** Only think you Good for Sex, like b**** did you Know I knew how to Draw," she wrote. McShane reportedly succumbed to his wounds at 12:22 a.m. Sunday.
According to the report following Collin's arrest, deputies from Escambia County Sheriff's Office attended a call to the apartment complex north of Pensacola on U.S. 28 at 11:39 p.m. At the scene McShane was unresponsive and seen lying on his back in the road. He was found on the driver's side of his Mitsubishi Galant.
Under the victim's shirt one deputy found a one-and-a-half inch stab wound in the man's sternum, the area in the middle of the chest. At the time McShane had a pulse, but it was weak. Blood could be seen on the outside of the car. The injured man was taken from the scene to nearby Baptist Hospital, where he died.
Officials made copies of the posts shared by Collins around the time of McShane's death and then removed them from her account. Her statements from interviews with investigators were not included in the public arrest report.
She was arrested Sunday and denied a bond. Circuit Judge Scott Duncan declined to set the bond despite the intervention of McShane's mother on Collin's behalf.
"I know Jaquoia, and I would like for her to have bond, if you don't mind," the victim's mother Samantha Allen said during a tearful plea in court. "Because I know that she's a good mother. I'm hurting. I'm broken. But I know she has kids, and I want her to get her affairs in order, for her kids. She has my grandbaby. And I forgive her. And I love her. And I don't know if she intentionally tried to do it. It's up to you," she added.
Duncan has said there is probable cause to believe Collins committed the crime. Surveillance camera footage has shown her running away from McShane's car after he returned to the Wild Oak Farm Apartments.