Misogynist Andrew Tate Arrested On Human Trafficking & Rape Charges! Is He Being Set-Up? (Live Broadcast)
by Tj Sotomayor
January 2, 2023
0 comments
click here to talk with the host live
Andrew Tate Is Detained Over Human Trafficking and Rape Charges in Romania
The misogynist influencer had just picked a public fight with Greta Thunberg, whose "small dick energy" retort became one of the most liked tweets of all time.
A Twitter spat that misogynist social media personality Andrew Tate started with 19-year-old climate activist Greta Thunberg over his masculinity this week ended when he and his brother, Tristan, were detained in connection to human trafficking and rape charges in Romania on Thursday, according to local media and police.
Tate taunted Thunberg on Twitter about the carbon emissions of his 33 cars, to which Thunberg replied with a joke about "small dick energy" that became one of the most liked tweets of all time. Tate then posted a humiliating 2-minute video of himself smoking a cigar in a robe and insisting that he was not at all owned by the teenager. Though some speculated authorities were tipped off to his whereabouts due to the pizza boxes he prominently featured in the video, a Romanian official on Friday told the Associated Press the claims were "funny" but denied that the pizza gave him away.
Thank you for confirming via your email address that you have a small penis @GretaThunberg

The world was curious.

And I do agree you should get a life ❤️ https://t.co/mHmiKHjDGH pic.twitter.com/SMisajQRcf

— Andrew Tate (@Cobratate) December 28, 2022
Police raided his villa and detained the Tate brothers on suspicions of sex trafficking. Semafor reported that the suspects "allegedly used a 'loverboy method' to lure victims into marriages and then sexually and mentally abused them to perform in exploitative videos, authorities said."
Jezebel reported in August that educators are concerned that Tate's views are worming their way into young boys' minds. Rodlyn-mae Banting described him thusly:
The 35-year-old British-American schemer and self-described misogynist (you read that right) is a former professional boxer who appeared on the 2016 season of Big Brother, before he was kicked off after a video surfaced of him hitting a woman with a belt. (He and the woman later said the interaction was consensual, not abusive.) Over the last six years, he's amassed 11.6 billion TikTok views, 4.7 million Instagram followers, and multiple appearances on vlogs and podcasts, giving him horrific reach for his content.
His greatest hits include the following: saying women shouldn't drive, comparing women to dogs, viewing his girlfriends as monetary assets, and claiming women should "bear responsibility" for being raped. In early August, the Guardian reported that Tate is being investigated on human trafficking (which he has denied) and rape allegations in Romania, where he lives in a mansion with his brother. In April, the home was raided by police in search of an American woman allegedly held against her will. Income wise? Tate ran Hustler's University 2.0 (upgraded to Hustler's University 3.0 on Monday), a "modern wealth creation" course that promises its more than 100,000 users, many of whom are young men, hacks on how to make $10,000 a month, per the Guardian…all for the low price of $49.99 a month.
On Friday, Thunberg archly commented on the situation:
this is what happens when you don't recycle your pizza boxes

— Greta Thunberg (@GretaThunberg) December 30, 2022

This story has been updated with additional information about Tate's arrest, and Thunberg's Friday tweet.
Andrew Tate arrest: TikTok and Twitter under fire over false posts from fans
Social media firms in spotlight after allowing conspiracy theories that could affect human-trafficking investigation into 'king of toxic masculinity' in Romania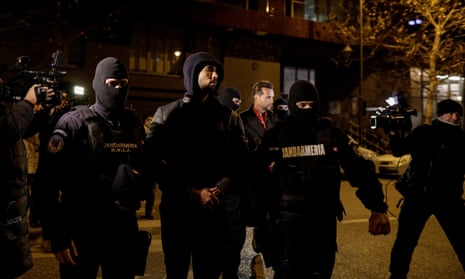 Social media firms are under fire this weekend for allowing the spread of misinformation by followers of "king of toxic masculinity" Andrew Tate after his arrest in connection with a human trafficking investigation.
In the hours after his detention, TikTok and Twitter were flooded with posts falsely claiming he had been freed and conspiracy theories saying he had been set up, Observer analysis shows.
Imran Ahmed, chief executive of the Center for Countering Digital Hate, said: "Having conspiracy theories proliferating which might put at risk the integrity of an investigation or the safety of those involved is unconscionable."
Tate, 36, a British-American internet personality best known for his misogynistic views, was arrested with his brother Tristan in Romania on 29 December as part of an investigation into human trafficking, rape and organised crime.
An investigation by the Observer in August into the former kickboxer and Big Brother contestant revealed that TikTok was aggressively promoting his content to users including boys and young men. Members of Tate's online academy had been instructed to post deliberately controversial clips in an effort to boost engagement and manipulate the algorithm.
After his arrest last week, a statement from prosecutors said four people, including two Britons, were suspected of being part of a criminal group that sexually exploited women after luring them with promises of a relationship.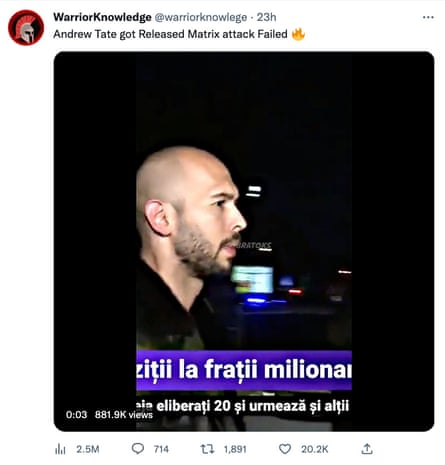 The women were allegedly subjected to "physical violence and mental coercion through intimidation, constant surveillance, control and invoking alleged debts" and forced to make pornographic videos. Six potential victims had been identified.
Further details of the specific allegations against Tate have not been made public. On Friday, it was confirmed that he would spend the next 30 days in detention as Romania's Directorate for Investigating Organised Crime and Terrorism continues its inquiries.
On social media, thousands of supporters have already reached their verdict. On TikTok and Twitter, Tate's fans claimed without evidence that he had been framed, using hashtags such as #freetopG and #tateinnocent. "People lie because they hate Tate," one wrote on Twitter. "I'm 100% sure Tate is innocent. FREE TATE," said another.
Others blamed "the Matrix" for setting him up. This was fuelled by Tate himself in a tweet posted after news of his arrest: "The Matrix sent their agents," he wrote on Friday.
Since the release of the 1999 sci-fi film about people living in a simulation, where a man is given the choice to take a red pill and "wake up", the metaphor has been repeatedly repurposed in a range of conspiracy theories, as well by fringe online groups who use "redpill" to mean men waking up to the "reality" that feminism subjugates them.
On TikTok on Friday, the most-liked recent video about Tate was one that appeared at first to be a factual report but ended by asking viewers: "What do you guys think is the real reason Tate was arrested? Was it the Matrix, or did Tate actually commit a serious crime?"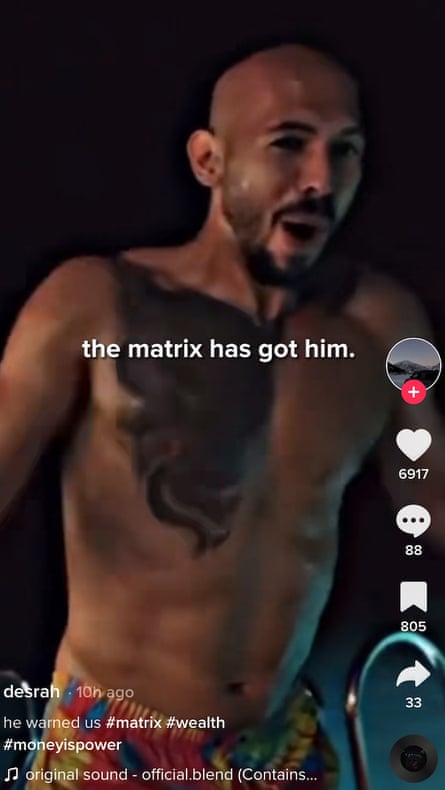 On Twitter, where Tate has more than 4m followers after his account was reinstated in November, many posts referenced #Pizzagate – a debunked theory that predated QAnon and claimed senior Democrats were behind a child sexual abuse ring – and suggested he was being used as a scapegoat by real paedophile rings.Jeremy Renner in 'critical but stable condition'after accident
In a video made shortly before his arrest, after a Twitter spat with the climate activist Greta Thunberg, Tate had appeared on camera with a pizza box in front of him in what some speculated was a reference to the conspiracy. "They want to cover up Pizzagate with Andrew Tate," one Twitter user wrote, tagging Elon Musk.
Other accounts posted old videos suggesting Tate had been cleared, despite him remaining in detention. One clip viewed 780,000 times on Twitter by Saturday claimed to show him being freed from custody. "Andrew Tate got Released Matrix attack Failed," the caption read.
The fierce defence of Tate and spread of misinformation since his arrest will add to concerns about the impact on any future legal proceedings and raise questions for the social media platforms that helped propel him to the mainstream.
In the weeks after the Observer's August investigation, TikTok banned Tate's official account and said it took a tough stance on hateful content including misogyny. On Saturday night, TikTok said it had begun a systematic review of content flagged with it and would remove any that violated its guidelines, which ban "misinformation that causes significant harm to individuals, our community, or the larger public". Twitter did not respond to a request for comment