BT-1100 Tattted Up Whore Arrested After Her & 3 Other Machines Fight At Chick-Fil-A & She Pulls A Gun! (Video)
by Tj Sotomayor
April 15, 2018
0 comments
Black Hoes Ain't Sh*t
How much do you guys want to bet that this beat faced whore has kids?
In this story, it will be me that is the bad guy for how I spoke about the dumb things being done but not the people who actually did the dumb stuff!.. DONT BELIEVE ME JUST WATCH!
Ok, So lets get this straight, after all of this crap took place, these women then went to another location to continue to brawl and that is when the police were called again and the woman with the gun was then arrested?  You have to be a stone cold idiot to believe that all of these people saw you fighting and waving a gun and you believe no one called the police? You then found yourself fighting again and still in possession of the weapon?
Man this story is proof positive at how violent and stupid a lot of black women are today!
Video shows woman pull gun during argument at Chick-fil-A drive-thru
One woman allegedly pulled a gun on the other; she told police she has an ongoing argument with the victim.
Witnesses told police the women got into an altercation at the Glenwood Chick-fil-A at 401 Bill Kennedy Way around 9:15 am.
A few minutes later, police received another call to 794 Eloise Court regarding a dispute. Both women told police they had been involved in the Chick-fil-A altercation. Police said both women also had visible lacerations, and a gun matching the description of the weapon used in the dispute was found in a vehicle.
11Alive's Natisha Lance spoke to the witness who saw the whole crazy scene unfold.
"It was unbelievable," said Georgia State law student Honey Shaw. "That's not something expect to see in a Chick-fil-A or any drive-thru really."
Shaw said she was waiting for her boyfriend in the parking lot of the restaurant when she saw the fight break out.
"I looked up and saw this commotion in front of me," Shaw said. "I was just in shock the whole time you never think you'll see something like that 10 feet away from you."
Shaw said she did get her breakfast, but Vonshay Redding, 24, was arrested a short time later.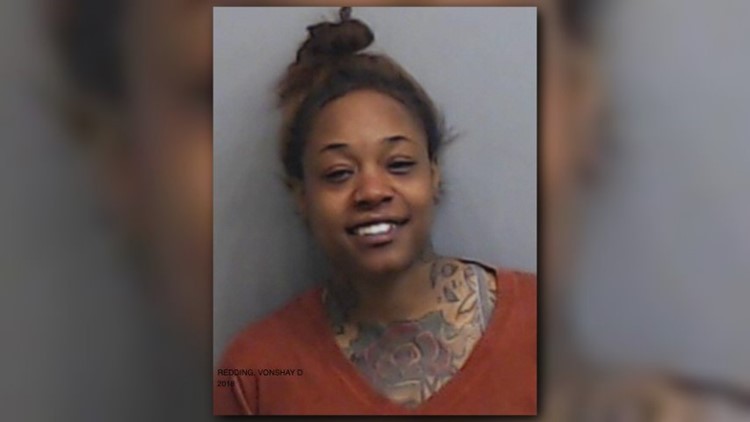 Police identified her as the one in the video with the gun. She told police she has an ongoing dispute with the victim. Redding was arrested and charged with aggravated assault, possession of a firearm during commission of a felony and possession of a firearm by a convicted felon. She was given a $200,000 bond.