Top 15 Of My Favorite Interracial Bromance Couples! Who Are Yours? (Photos)
by Tj Sotomayor
November 15, 2022
0 comments
Have you ever seen guys that just together seem like they would run through walls for each other? Well, we tend to in this day and age, talk about race as it is the end all be all. We tend to think that people of other races cannot get along at all but I remember when I grew up there were black men and non black men who seemed to be the best of friends. There were white men and non white men who were amazingly close.
This article will show you my top 10 interracial bromances that I have seen in entertainment, politics or anywhere I see fit. Please add your responses below!
1.Richard Pryor & Gene Wilder: This is my number one because these guys were hilarious together. A lot of people do not know that in real life they rarely spoke to each other but on screen their magic came together as if they were brothers! Gene Wilder and Richard Pryor were individually very well known comedy actors that both were at the height of their careers during the 70's and 80's.
They starred in four films together and made an unforgettable duo. They ended up in 4 films together, Stir Crazy, Silver Streak, See No Evil, Hear No Evil and Another You! These movies were good but it was the movie that they didn't do that we should think about. These two were targeted to do a movie called Trading Places.
The movie was specifically written for them but because of Pryor's drug abuse the film ended up going to Dan Aykroyd & Eddie Murphy. They did a great job but I cant help but wonder how much laughter that Pryor's drug abuse robbed us from! (Which Was Your Favorite movie by them)
2. Eddie Murphy & Dan Aykroyd: These two men made one of the funniest comedies of all time called Trading Places. But did you know they were also supposed to star with each other in another great comedy that came out in 1984 called Ghostbusters? Yep, Eddie Murphy revealed that he was supposed to start in the massive hit with his friend and fellow SNL Alum but he turned it down in order to do another small film called Beverly Hills Cop. LOL. With a 13 Million dollar budget, that film ended up making 319 million dollars that year so its safe to assume that he made the right choice, but I know that I cant be the only one who would have loved to see them star opposite each other wise cracking and busting ghost! Why knows, maybe its not too late??
3. Chris Tucker & Jackie Chan: These two men go together like peanut butter and jelly but when they first met, it wasn't like that.
Chan was looking to break into the American film market and had almost given up until "Rush Hour" came along. Chan was given a script starring opposite Christ Tucker who had become a legit star after the success of the movie Friday with Ice Cube. Chan's speaking style would be integrated into the movie as part of the "East meets West" buddy cop humor. Chan agreed to make the film, but he didn't see the appeal in the humor, even calling it a terrible movie. After first seeing "Rush Hour" Chan said, "The English, I'm not good. Chris Tucker's English, I don't understand. Terrible movie!"
Jackie Chan admitted to not liking Tucker at first because he would improvise on the set. But after filming three movies together, the pair have become friends off-screen. Chan even credits their cultural differences for much of the organic humor between them. In retrospect, the story behind the pair's initial meeting adds even more humor to that already hilarious scene where they meet onscreen for the first time.
Now they have done 3 films together and no one I know can ever see one of them without the other.. There have been rumblings that there will be a part for to the movie Rush Hour… Are you interested in seeing it?
4. John Dorian AKA JD & Christopher Turk AKA Turk: Zach Braff and Donald Faison starred together in a show that many found stupid and not funny but has become beloved called Scrubs. Scrubs had a long run on network TV and during that run, it had some incredibly memorable characters. Two of them were the show's lead, J.D., and his best friend Turk. They were two of the funniest characters during the show's run, and their friendship still stands out today years later as one of the best in TV history.
So what made the pairing so effective? Why is it that Turk and J.D. seemed to get along so effortlessly? The answer lies with the two actors who portrayed those characters. Here's why Turk and J.D.'s friendship felt so real.
Zach Braff played J.D. while Donald Faison played Turk. The two have had multiple other film and TV credits outside the show, but Scrubs is what they've both come to be known for.
J.D. was the main character, but it wouldn't have been nearly as effective without Turk. Turk was a main cast member who served as an anchor for the show. Faison and Braff's chemistry was one of the show's strongest elements.
According to ScreenRant, Faison and Braff are actually good friends in real life. The reason the duo has such unmistakable chemistry on camera is that they had a great relationship outside the show.
Throughout the show's run, the two were in close contact both on-screen and off of it. Fans of the show loved the hijinks both men got into, and that fun attitude bled over into the men's real lives.
That friendship continues to this day, and it's led to another creative project between the two: a podcast.
5. Josh Allen & Stephon Diggs: Stefon Diggs seems to love everything about his home with the Buffalo Bills — especially his star quarterback/friend Josh Allen.
During a recent appearance on The Von Cast with his teammate Von Miller, Diggs expressed his gratitude for the QB who he considers a "brother.
Miller asked Diggs what Allen has meant to his NFL career.
"Damn near everything," Diggs responded. "… He really changed my career, from where I was to how I'm viewed now. I always saw myself as that player, but my stats weren't matching that… [Allen] is that quarterback that God had for me at the end of the tunnel.
When Diggs arrived in Buffalo in 2020, Allen was in his third NFL season. Neither player had reached their full potential, and they helped each other achieve that in Year 1 together.
In his first season with the Bills, Diggs led the NFL with 127 receptions and 1,535 receiving yards — earning the first Pro-Bowl and All-Pro selections of his career.
Allen and Diggs are still operating at an elite level in Year 3 of their partnership. Through the first five games of the 2022 season, Diggs ranks fourth in receiving yards (508) and second in receiving touchdowns
During an interview with The Rich Eisen Show earlier this year, Diggs echoed his praise for Allen — saying he's "like family."
"He's a hell of a quarterback. Since I met him, it kinda clicked," he said. "You don't click with everybody. That's somebody I felt, damn, I could grow old with you. I can see myself with you for a while."
6. Danny Glover AKA Murtaugh & Mel Gibson AKA Riggs: After 35 years since they did Lethal Weapon, Mel Gibson and Danny Glover are still the best of friends. In 1987, Mel Gibson and Danny Glover first teamed up as mismatched LA cops Martin Riggs and Roger Murtaugh in the action classic Lethal Weapon. The film established the pair as an iconic double act, their chemistry so successful that Gibson and Glover would reprise their roles in three sequels, with a fourth now in the works.In the movies, Gibson and Glover are the best of friends. In real life, Gibson and Glover initially butted heads, their personalities clashing during the making of the first Lethal Weapon. But as time wore on, the two actors became as close as 'brothers', with Glover standing by Gibson through the most controversial years of his career.
"I'll always remember how Mel and I clicked"
Lethal Weapon came to epitomise action cinema's 'buddy' movie subgenre, in which two characters with clashing personalities prove to be a great team. This had been done before, most famously with Nick Nolte and Eddie Murphy in 1982's 48 Hrs., but Glover and Gibson's chemistry took their film to another level.
Prior to landing the role of Murtaugh, Glover recalls he was invited to "attend a read-through at [director Richard] Donner's house to see what Mel and I were like together. And it worked within a couple of minutes; I'll always remember how Mel and I clicked."
Gibson agrees, later remarking of Glover in Jet magazine, "I've never been able to explain our relationship except for the fact that I get him and he gets me. He's considerate, generous and a brilliant actor."
Gibson and Glover weren't necessarily instant pals. Where Gibson relied on instinct, Glover was more of a Method actor. As Wensley Clarkson writes in his book Mel Gibson: Man on a Mission, that Gibson and Glover came from "completely different schools of acting" at first put a strain on their relationship.
"Mel has acknowledged, privately, that he and Glover did not hit it off immediately", writes Clarkson. "It was to be a gradually improving relationship that reached the height of familiarity only in the Lethal Weapon sequels." Still, Gibson and Glover's special on-screen connection was from the jump apparent to all, as reflected in the Lethal Weapon 2 tagline, 'the magic is back!'
Gibson has suggested his chemistry with Glover has also been a factor in the longevity of the series, remarking on the release of Lethal Weapon 4 that "our advantage… is that we really do enjoy each other's company; we do understand and like these characters, and we do have a tremendous relationship with the filmmakers. We can put that up on the screen with complete integrity.
"We are more alike than I initially thought"
As the Lethal Weapon series continued, the bond between the two men grew closer. Glover's Murtaugh may repeatedly declare, "I'm too old for this s***", but the age gap between Gibson and Glover isn't actually that large. While Gibson was born on January 3, 1956, Glover was born a mere decade earlier on July 22, 1946.
Clarkson quotes Gibson: "We get together and go for dinner, you know, swap war stories. You know, lie to each other! And we talk about heavy stuff, too… it's a kind of Middle Aged Men's Therapy Group with just the two of us sitting there. And we are more alike than I initially thought.
"When we started, he was already nearly 40 and I was still growing up and now we are both these middle-aged guys. So we have a better connection and understanding of one another. I mean, with Danny, what's there not to like?"
After 1998's Lethal Weapon 4, the action franchise quietly went on pause, but Gibson continued to enjoy a high profile acting career until 2006, when his career was derailed by a series of scandals. After being arrested for drunk driving, Gibson reportedly let loose a slew of sexist and anti-Semitic remarks to his arresting officers. Later, a recording was released of a telephone message Gibson left to an ex-girlfriend in which he used aggressive language including the N-word.
"I can't pass judgment on a man's life"
Glover did not speak out directly on Gibson's behaviour at the time, but he did remark in one 2007 interview, "I tell people, 'You can't tell me who I can talk to. You can't tell me what I can talk about. You can't pick my friends… My critics have taken to attacking my relationships, but they have nothing to say about the substance of what I've had to say." While these remarks primarily address Glover's political activism, it seems feasible he could have been quietly defending his friendship with Gibson.
Glover has addressed the matter more directly in the years since. In 2012 he told The Guardian, "Mel's my friend. I can't pass judgment on a man's life. I know my working relationship with him was wonderful – absolutely unequivocally. We don't agree on everything. My take on women's rights may be different from his. I know Mel is a wonderful human being, a wonderful father.
Glover has also stressed that, despite their apparent differences politically, Gibson has offered support to various causes which Glover has championed: "When I was doing work with the United Nations Development Programme around the issue of poverty, he financially supported the stuff that we did. He also supported a benefit my wife put together for an opera house in San Francisco in the black community."
Speaking to Star Tribune in 2014, Glover got a little more defensive on the matter, stating, "I love Mel Gibson. That's all I have to say about that. I don't want to go any further with the question." The journalist noted that after the interview was over, Glover bluntly remarked, "What Mel and I say to each other is my private life, and I'm not writing a book.
Despite Gibson's star losing its lustre, talk of a fifth Lethal Weapon movie has not gone away. In 2020, news spread that Gibson and Glover would be returning alongside original series director Richard Donner for a film tentatively entitled Lethal Finale.
"Mel Gibson is my brother"
When Richard Donner died in July 2021, it was widely expected that Lethal Weapon 5 would die with him, but it was later announced that Gibson would direct the film himself, with Glover's blessing. Gibson told Entertainment Tonight, "I called Danny up, of course, and said 'Hey, dude, is it okay with you if I direct this?' He said, 'Yeah, let's go'… I know Danny's going to pull it off real well, too. He's kind of like the show pony in this one.
As Gibson still remains a divisive figure, Glover is by now accustomed to defending their continued association. In 2021, Glover expounded on the nature of their bond: "Mel Gibson is my brother. I've been a part of the evolution of two men: myself and Mel. We've been around each other over 35 years. That doesn't make us the best of friends but I see the spirit of generosity that is part of who he is. I've been around him enough to know that Mel is a good person, a good human being and I love Mel."
7 Magic Johnson & Larry Bird: There is a universal truth to result of this friendship… IT saved the NBA! Thanks to HBO's hot new sports dramedy, "Winning Time: The Rise of the Lakers Dynasty," people are talking about one Earvin Johnson Jr. once again. Of course, we all know him much better as Magic Johnson, and even casual fans are aware that he led the Los Angeles Lakers to glory in the 1980s — to be specific, that's five NBA championships while quarterbacking the Purple and Gold's "Showtime" offense (via Basketball-Reference). And we also shouldn't forget Johnson's rivalry — and later friendship — with the Boston Celtics' superstar forward from the same era, the "Hick from French Lick" himself, Larry Bird, who won three NBA titles and, much like Magic, has an enviable list of individual accolades to his name. All these things undoubtedly helped them earn their rightful place in the Basketball Hall of Fame.

Any discussion of Johnson and Bird's relationship should start with their college days, with Johnson starring for the Michigan State Spartans and Bird doing the same for the Indiana State Sycamores. Per Bleacher Report, the two were highly-recruited basketball stars in high school who opted to play college ball in their respective home states, and their rivalry was on full display at the 1979 NCAA men's basketball championship game, where the Spartans defeated the Sycamores, 75-64. But how did their friendship emerge from what was once a contentious on-court relationship?
THEY HAD MUTUAL RESPECT WHILE PLAYING FOR A COLLEGE ALL-STAR TEAM

Back in 1978, Magic Johnson and Larry Bird were two of America's finest college basketball players. However, they were seemingly barely aware of each other until they were both named to a college all-star team that competed in the World Invitational Tournament in April of that year. Shockingly, neither of these future legends got a lot of playing time; the team's coach, Kentucky's Joe B. Hall, appeared partial toward his own Wildcats players, guys like Jack Givens, Kyle Macy, and Rick Robey who didn't do much of note in the NBA. But it was evident that Bird and Johnson had tantalizing potential, which they both recognized in each other while executing a play against the Russian team. Bird and Johnson were showing off the brilliant passing skills that would later set them apart from their NBA peers, and the play ended with Johnson scoring a quick layup on an assist from Bird.
"It was an incredible three seconds of basketball," Johnson related in the book "When the Game Was Ours," as quoted by NPR. "It was boom, boom, boom! I'm thinking, 'Man, I love playing with this guy!' And believe me, the crowd loved it too." Bird, while less effusive in public, was similarly impressed with Magic, as one of the first things he did after returning home was to tell his brother Mark that he had "just seen the best player in college basketball."
THEIR RIVALRY INTENSIFIED ONCE THEY MADE IT TO THE NBA

To understand why Larry Bird and Magic Johnson were considered the NBA's saviors when they turned pro in 1979, one has to remember that the league was in dire straits in the late '70s. The perception was that the NBA was too Black for white fans to enjoy (via Bleacher Report), and it didn't help that many players were allegedly doing a lot of drugs, especially cocaine. Plus, there were no real, long-lasting rivalries to speak of, as eight different teams won titles in the 1970s, with only the New York Knicks (1970, 1973) and Boston Celtics (1974, 1976) repeating.
The Celtics and the Los Angeles Lakers — bitter rivals dating back to the late '50s — didn't face each other at all in the NBA Finals that decade, but that was to change very soon, with Boston drafting Bird at No. 6 in 1978 despite the fact he was returning to Indiana State for one more year, and Johnson going first overall to the Lakers in 1979 after just two years in college. Their star power helped turn the NBA's fortunes around, and while doing so, their old rivalry became even fiercer now that they were playing for — and leading — their respective pro teams to great success.
Speaking to NPR, Bird said that he and Johnson "rekindled the fire" of the long-running Celtics vs. Lakers feud, and that their own personal rivalry "caught the imagination of everyone in America." Johnson, meanwhile, admitted that he and Bird disliked each other during their first few years in the NBA. "I even hated him more because I knew he could beat me," he explained.
A CONVERSE SHOE COMMERCIAL HELPED BREAK THE ICE

As opposing on-court leaders of two of the NBA's best teams, Magic Johnson and Larry Bird had no love lost for each other as the Lakers vs. Celtics rivalry made the NBA feel relevant again in the early '80s. But in 1985, both men made the first steps toward forging an unlikely friendship when Converse invited them to shoot a shoe commercial in Bird's hometown of French Lick, Indiana. Johnson was apprehensive at first because he and Bird never had a serious conversation at that point, and while he agreed to do the commercial, the two superstars didn't talk to each other during the actual shoot (via NPR). But when Bird invited Johnson to have lunch at his house, they both realized that they could at least be civil toward each other away from the court.
"His mom gave me the biggest hug and hello, and right then she had me," Johnson recalled to NPR. "Then Larry and I sat down for lunch, and I tell you, we figured out we're so much alike. We're both from the Midwest, we grew up poor, our families [are] everything to us, basketball is everything to us. So that changed my whole outlook on Larry Bird." Johnson went on to admit that many of his Lakers teammates were "shocked" that he and his fierce rival actually had broken bread.
That said, it was "back to business" after the shoot, according to Bird, as the rivalry between top teams and star players continued, almost as if nothing had happened over at the Bird residence. "You don't want to get too close to a person because you will get a little soft," he told NPR.
JOHNSON TURNED TO BIRD AFTER HIS HIV DIAGNOSIS

It's one of those "where were you when you heard the news" moments — Magic Johnson announcing on November 7, 1991, that he had tested positive for HIV and that he would be retiring immediately from the NBA. Before he made that announcement, the Lakers point guard decided to break the news to a few select people, and one of those individuals was Larry Bird. According to Johnson, he chose to speak to his old Celtics rival because he could count on his support when he needed it.
"It was probably one of the worst feelings you could ever imagine," Bird told NPR. "It was very difficult. We played against each other for a long time. At that time, HIV was known to be a death sentence. But for some reason, when he told me he was going to be fine, I believed him because everything he's ever said had really come to be true, as far as winning and winning championships."
Further elaborating, Johnson said that his friendship with Bird, at that point, was one where they didn't have to talk every day. But he also recognized that they were both willing to step up whenever one of them needed something. "As strong as I appeared to be, I still needed a friend to just say, 'Hey man, I'm here, I'm supporting you. Just do what you got to do to be here for a long time.'" Johnson explained.
THEIR FRIENDSHIP HAS REMAINED STRONG IN THE YEARS SINCE

In the decades that have passed since Magic Johnson and Larry Bird were respectively leading the Los Angeles Lakers and Boston Celtics to dominance, their friendship has thankfully remained intact. By 1992, Magic was close to a year removed from retirement while Bird, who was dealing with a nagging back injury, was just about to call it a career. But they teamed up for what Bleacher Report called a "celebratory lap," helping Team USA's "Dream Team" run roughshod over the competition at that year's Summer Olympics in Barcelona. At Bird's retirement party in February 1993, Johnson presented a Lakers jersey to the Celtics icon, with the inscription reading, "To the greatest basketball player ever, but more importantly, a friend forever," per the Los Angeles Times.
Johnson and Bird continued to celebrate their friendship, as well as their rivalry, in more recent years; along with journalist Jackie MacMullan, they co-wrote the 2009 book "When the Game Was Ours." They were also announced as co-recipients of the NBA Lifetime Achievement Award in 2019, and their banter at the NBA Awards ceremony was proof positive of how far they've come since that fateful lunch after the Converse commercial shoot. "Man, I think we pushed each other to greatness," Johnson told Bird at the event. "And everyday I watched your box score … thank you for pushing me, and I hope I did the same for you."
8. Andy Dufresne & Ellis Boyd Redding AKA Red: A lot of people have no idea but this movie was considered a BOMB when it first came out for the studio who produced it. The drama's path towards universal acclaim is fascinating considering its disappointing theatrical run against box office smash hits like Pulp Fiction and Forrest Gump. However, a 1995 release to VHS and the power of word of mouth changed its trajectory towards becoming a classic. Why do people love The Shawkshank Redemption? In short, the power of Andy and Red's friendship is the foundation of this endearing narrative.
The concept of finding a person and forming a friendship bond is one of life's truly underrated gems. It happens every day but that doesn't make it less of a miracle in a world of seven billion people. And some of the strongest friendship bonds are solidified in bleak times or perhaps forged outside of a person's normal social scope. Those friendships serve as an affirmation of love, a spiritual awakening, and sometimes the only source of solace in shaky territory.
This is obviously why many movies center upon friendship. However, it's hard to examine in the midst of sensitive subject matter without seemingly preachy or overly mawkish. The Shawshank Redemption manages to do this well without falling into typical tropes. Red isn't a "magical Negro" positioned to uplift his White counterpart but instead a pragmatic man who was naturally drawn to Andy's personality. And Andy isn't looking for external motivation or validation regarding his situation. His strength comes from hope and not allowing prison to erase who he has been for years.
"You need [music] so you don't forget… forget that there are places in the world that aren't made out of stone. That there's something inside that they can't get to, that they can't touch. It's yours… Hope." —Andy Dufresne
Andy and Red's interactions don't lead to a whirlwind friendship filled with sweeping platitudes, heroic appearances during times of trouble, and motivational speeches. Their relationship builds out of a necessary trade and slowly transforms to something that feels normal and familiar despite the strife they face in prison. The duo's matter-of-fact conversations give a deeper look into the real-life consequences of long-term imprisonment, morality, regret, and the merits of maintaining hope, which sometimes put them at odds. However, they always keep it real and respect each other's brilliance and opinions.
Red is not able to stop Bog and The Sisters' assaults against Andy, but he makes sure a poster of Rita Hayworth is ready for Andy when he gets out of the infirmary. He's a listening ear, a smuggler, a chess partner, and a comedian when the need arises. Red doesn't realize it, but his willingness to get Andy what he needs to find a way to pass the time—a rock hammer and various posters—is the ultimate gateway to their freedom. These moments of love and affection are prominent without glossing over the realistic issues that incarcerated people face.
The pair imprint on each other over the years. Red dares to find hope after 30 years of incarceration through several methods—Andy's relentless pursuit to build a prison library, a gifted harmonica, and finding a productive way to pass the time. He's in a world where people only use him for what he can do for them, but Andy sews a seed in his soul. Andy learns how to bend the rules of prison to suit his own progression and uses Red as a springboard for his laundering idea. When Andy escapes, Red is proud of his cunning perseverance but also sad to lose a nearly 20-year friendship. It's almost impossible to not feel a gut punch when Red says he misses his friend while working in the field. Red later steps into unfamiliar and terrifying world. But a promise to his friend restores his hope.
In the end, they start a new chapter of freedom together in heaven after years of hell. The Shawshank Redemption's final moment comprises everything the film set out to accomplish by showcasing hope, love, resilience, and redemption through the magic of friendship. It has the type of impact that will continue to resonate for the next 25 years—and beyond.
9. Michael Jackson & Paul McCartney: No one would have ever thought that these two song writing titans would have ever come to be friends nor even cowriters But in retrospect, it made total sense that Michael Jackson and Paul McCartney would befriend each other.
MJ was the world's most electrifying pop star the world had seen and later became well-known as the 'King Of Pop', whereas in his time as one of The Beatles, Macca completely changed the face of pop music.
Not only were they both unique musical talents, but they'd both experienced stratospheric fame at an early age so were probably more compatible confidants than you'd initially think.
Their friendship wouldn't last forever, however. So what happened exactly?
How did Michael Jackson and Paul McCartney meet?
Macca recently recalled the first time he and Michael spoke, and it caused a case of mistaken identity.
A mystery caller found out Paul's phone number, which led him to believe it was a "girl fan" that managed to locate his contact details due to the high-pitched voice on the other end.
"Somebody rang me up and this high voice I didn't recognise said: 'Hi, Paul" the Beatles legend remembered.
"I thought, 'This is a girl fan, and how the hell did she get my number?' I was quite annoyed."
"It wasn't a girl, it was Michael Jackson, and he basically said, 'Do you want to make some hits?'"
From then onwards both artists would confide in each other, offer each other advice, and even talk business on occasion.
Paul would even offer his song 'Girlfriend' up to Michael, though he eventually ended up recording it himself for Wings. But by then, the beautiful friendship had already begun.
Macca had recently opened up to the idea of duetting with other artists after the success of his global No.1 hit 'Ebony and Ivory' with Stevie Wonder.
So, the idea of two of the greatest forces that music has ever seen combining their efforts was surely the next logical step.
Paul reached out to Michael and asked if he wanted his song 'Girlfriend', though he eventually recorded it himself for Wings.
The first time they'd enter the studio together was to record 'Say Say Say' for McCartney's solo album Pipes of Peace, though it wouldn't be released until 1983.
However, the first time we would get to hear one of the pair's collaborations would be 'The Girl Is Mine' from Michael's ground-breaking album Thriller released a year prior in 1982. This was where their friendship truly blossomed.
Michael even confessed that it was his favourite time working in the studio throughout the entirety of his glittering solo career.
"Working with Paul McCartney was pretty exciting and we just literally had fun." MJ gushed years after.
"It was like lots of kibitzing and playing, and throwing stuff at each other, and making jokes."
Despite 'Say Say Say' being the lead single for McCartney's fourth solo album, and 'The Girl Is Mine' being the first single to be released from Thriller, the duo never performed together live.
Any momentum that they may have needed to get on stage together was likely halted by the lukewarm reaction to 'The Girl Is Mine' with some of MJ's fans believing Thriller would be a disappointment. How wrong they were.
The only time Michael would ever 'perform' the song live was during a deposition in 1993 during a copyright infringement lawsuit, where he explained how he wrote his music.
Even though they never performed together on stage, we can all gladly enjoy the goofy music video for 'Say Say Say' where Macca and MJ played con-artists Mac and Jack.
How did their friendship end?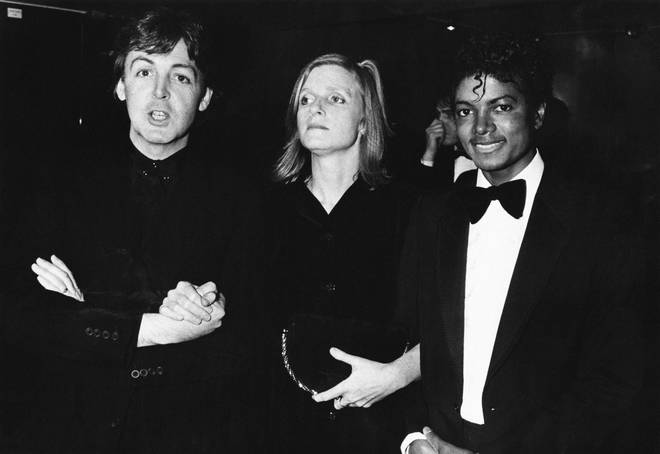 Their friendship ended in acrimonious circumstances, let's say.
Of all the business discussions the pair had together, it was one piece of advice Paul gave Michael that would come back to haunt him.
After establishing a bond together whilst working in the studio, Paul had suggested to Michael that he begin to invest by buying other artist's music publishing rights, with Paul recently acquiring the rights to Buddy Holly's body of work.
Michael reportedly replied with: "One day, I'll own your songs."
Michael later began to put the wheels in motion to buy the rights to The Beatles' music, requesting that his lawyer buy the company ATV – which owned the rights to all 251 of The Beatles' tracks – for a colossal $47.5 million.
"You can't put a price on a Picasso… you can't put a price on these songs, there's no value on them," MJ said. "They're the best songs that have ever been written."
Paul felt betrayed that his close friend would choose to profit from his lifetime's work, rather than respect the bond they'd forged.
After 1985, they wouldn't speak on a meaningful level again despite a handful of attempts to patch up their differences.
The incident clearly scarred Paul, even though he tried on numerous occasions to contact Michael.
"He won't even answer my letters, so we haven't talked and we don't have that great a relationship," McCartney said in 2001.
"The trouble is I wrote those songs for nothing and buying them back at these phenomenal sums, I just can't do it."
Macca is frequently asked about the collapse of their friendship, notably on the David Letterman Show in 2009 when he stated: "He's a lovely man, massively talented, and we miss him."
Before his untimely death, MJ reportedly wanted to leave the rights to The Beatles catalogue to Macca in his will to settle their feud.
The rights to the Beatles' music in 2021 are currently split between Paul McCartney and Sony Music Publishing, according to Live for Live Music.
10. Apollo Creed & Rocky Balboa: Simply put, Rocky wouldn't have had a career if it weren't for Apollo. It wasn't until a top-ranked challenger backed out on fighting Apollo at the last minute that he decided it would be a good publicity stunt if he took on a no-name underdog. He chose Rocky because he liked his fighting name, The Italian Stallion. But surprisingly, once they got in the ring, Rocky put up a real fight. He decked the champ in the first round, and became the first fighter to go all 15 rounds with Creed. Rocky lost by split decision.
Rocky took the belt from Apollo. After Apollo spent a fair amount of time running his mouth, as he was known to do, Rocky finally agreed to a rematch, despite the fact that the bout with Apollo nearly left him blind in one eye. Their second fight was another slugfest, and both exhausted fighters went down simultaneously in the 15th round. Whichever one of them could get back on his feet first would be the champ … and that was Rocky. (After that fight, Apollo would retire.)
Apollo trained Rocky for his comeback. When Rocky decided to take on Clubber Lang without the proper amount of training, he not only lost his belt, but he lost his longtime trainer, Mickey, who died. Seeing an opportunity, Apollo stepped in and offered to train Rocky back into fighting shape for his rematch with Lang.
He trained in Los Angeles. To get Rocky out of his doldrums, Creed dragged him to his old stomping grounds at Tough Gym in Los Angeles, where he had his start as a boxer. It was there that he got Rocky back into fighting shape, and when the time came, Rocky beat Clubber Lang while wearing Creed's signature red-white-and-blue boxing trunks — the same shorts he'd worn in his first fight against Rocky.
He and Rocky DID fight a third time. After Rocky knocked out Lang to regain his title, Apollo asked for a favor in exchange for his training. Apollo wanted another rematch. It wasn't an official fight. There weren't any cameras involved. But for Apollo, losing to Rocky by one second was something he never got over. So he needed to know, once and for all, which of them was the better fighter. Psst… in Creed, we finally learn the results of that fight.
Apollo died in the ring. Retirement never quite sat right with Apollo, so after five years out of the ring, he decided to take on Ivan Drago, the first professional boxer from the Soviet Union, in what was intended to be friendly exhibition. So with Rocky in his corner, Apollo took on the towering Russian, who went from sports curiosity to deadly serious with a series of haymakers that spilled Apollo's blood all over the ring. When it seemed like the fight was turning into a slaughter, Apollo made Rocky promise that he wouldn't stop the fight. "No matter what" were Apollo's last words. He'd fall at the hands of Drago only moments later. His death would then spur Rocky out of retirement. (Spoiler: Rocky would go on to defeat Drago and end the Cold War.)
He loved nothing more than a good show. For his final exhibition fight against Drago, Apollo had James Brown perform "Living in America" as he made his entrance. So yeah, he loved attention. (And he never missed an opportunity to make money.)
Rocky's son called him "Uncle Apollo." Rocky and Apollo might've started out as opponents, but they grew to become close friends. Not only did Rocky's son call Apollo "uncle," but Rocky spoke at Apollo's funeral.
Carl Weathers approves of the new Creed. Weathers was a professional football player before he got into acting, so he certainly looked the part. Ken Norton, an actual boxing champ, had dropped out of the role shortly before Rocky went in to production, and the list of actors who resemble heavyweight champions of the world is short. As Sylvester Stallone told Stephen Colbert recently, he knew he picked the right Apollo Creed when Weathers interrupted his audition to tell producers that it would be a lot better if they could get a real actor to read the lines of Rocky — instead of the then-unknown Stallone, who also wrote the script. Stallone saw right then and there that Weathers had the arrogance and the contempt that the character required. Weathers recently tweeted to Michael B. Jordan on Friday, "You did well for the CREED name! Congrats on [a] great job, my friend. May your success continue."
11. Dr. Dre & Eminem: Almost everyone knows the names Eminem and Dr. Dre, especially those who are fans of rap music. Eminem, aka Slim Shady, is a rapper and was named by Nielsen Music as the best-selling U.S. artist of the 21st century, according to HipHop 24×7. Known to many as the "Rap God," Eminem is responsible for helping to popularize mainstream hip-hop, and is also well known for his controversial lyrics and unique rap style. Of course, you can't talk about Em without referencing all the intense feuds he has had with practically everyone he's come across, including Snoop Dogg and Machine Gun Kelly.
Despite all of his success, no one would have heard the name Eminem without Andre Romelle Young, aka Dr. Dre, the Grammy award-winning music producer, American rapper and entrepreneur. If his name sounds familiar, it's because, along with his other accomplishments, he is one of the co-founders of Beats by Dre, the popular brand of headphones and speakers. According to Rolling Stone, Dr. Dre was one of the integral figures of the gangster rap era. Just like his protégé, Snoop Dogg, he has managed to shed that image almost entirely in recent years.
Amongst all of the things Dr. Dre has achieved for himself, and for all the status and reverence he commands in hip-hop circles, his unique friendship with Eminem still remains one of the best and most fascinating aspects of his story.
Eminem and Dr. Dre's friendship is still going strong

Dr. Dre actually played a huge part in Eminem's success in the music industry. Not only has Eminem's path to the industry been paved by Dre, the record label Eminem is signed to, Aftermath Entertainment, is actually co-owned by Dr. Dre. The pair took their collaboration out of the studio and into the boardroom after several years of collaboration. Shady Records, which was founded by Eminem, co-signed 50 Cent in a 50-50 deal with Aftermath Entertainment. Initially, Dr. Dre had his doubts about signing 50 Cent in 2002, but Eminem convinced him to do it anyway.
The friends were also bonded by a tragic event. In 2007, Eminem fell victim to substance abuse. He later admitted himself into a rehab center and announced his journey toward sobriety in 2008. The timing coincided with the unfortunate death of Dr. Dre's son due to an accidental overdose, per The Things.
At the beginning of Eminem's career, he was faced with an uphill battle, as he struggled to establish himself in the rap genre. When Dr. Dre heard his music, though, he was impressed by the Detroit native's skills (per LA Times). Over the years, the two continued to collaborate professionally, and they cemented a lifelong friendship in the process.
The friends were seen together at the 2022 Super Bowl halftime performance. Together with Snoop Dogg, Kendrick Lamar, 50 Cent, and Mary J. Blige, Dr. Dre and Eminem gave a memorable performance that took social media by storm.
12. Wesley Snipes & Woody Harrelson: This relationship that we love to see on screen is actually a real and adorable one.

White Men Can't Jump was the unlikely buddy film where Woody Harrelson and Wesley Snipes scammed their way through pickup basketball games. Snipes and Harrelson have actually starred in three films together (unless you count Play it to the Bone, the Woody Harrelson film that includes a Wesley Snipes cameo and would bring the total number to four). Harrelson and Snipes first teamed up in Wildcats, that one movie no one can recall, before going on to star together in White Men Can't Jump and Money Train.
Over the years the two have formed an obvious bond — some might even say bromance — to the point where Harrelson once went out of his way to stick up for his friend.According to the Smoking Gun, Harrelson wrote a character reference letter to help Snipes during the sentencing phase of his tax evasion trial. In the letter, Harrelson called Snipes "a true citizen of the world" and assured the judge that he "strives for rightness in all his relations." Except for his taxes, but whatever. In an interview with BET,
Harrelson also said that he would choose Wesley Snipes as his Hunger Games killing partner, you know, because of all the rightness in all his relations and citizen of the world stuff because that will give you an advantage against people with longbows and beehives and stuff. Bromance.
13. Jamie Foxx AKA Django & Leonardo DiCaprio AKA Calvin Candy: The hatred that you saw in the critically acclaimed movie Django Unchained was the farthest thing from the truth when it comes to these guys relationship. Leonardo DiCaprio's bromance with Djanjo Unchained co-star Jamie Foxx is too pure and Jamie tells Leo 'I love you man'
Leonardo DiCaprio reunited with his Django Unchained co-star Jamie Foxx on Sunday night and honestly, their bromance is too pure for this world.
The Once Upon A Time In Hollywood star, 45, surprised Jamie by presenting him with the Excellence In The Awards award at the American Black Film Festival Honors at The Beverly Hilton Hotel.
Leo – who tried to sneakily watch the boxing later that night – declared that Jamie, 52, is a 'magnetic force in any room that he inhabits' who lifts up everyone around him.
Clearly feeling the love after his pal's speech, Jamie said, 'I love you, man.'
He added: 'You are my friend and my colleague and this means the world.'
Jamie scooped the prestigious gong for his new film Just Mercy and naturally, he slayed his speech.
The Ray actor said the showbiz industry will 'always need black people' because they will, 'tell you what the f**k it really is,' as the crowd cheered.
'You can't slip on your talent, which is why it means so much to get this award,' he added.
'People always talk about the Oscar, we got to stop thinking about the Oscar and celebrate our own thing, our own blackness.'
Other honorees at the awards included Harriet actress Cynthia Erivo with the Rising Star Award and Lena Waithe for the Industry Resistance Award.
Jamie and Leo's friendship goes way back to 2012, when they filmed the slave drama Django Unchained.
Jamie played freed slave turned bounty hunter Djano in the pre-Civil War South, while Leo portrayed ruthless plantation owner Calvin Candie, the vicious owner of Django's beloved wife.
And while they're BFFs in real life, they had to snub each other on set because of director Quentin Tarantino's orders.
Jamie recalled how one day Leo completely ignored him.
'I said, "What's up, Leo?"' he told Oprah on her show Oprah's Next Chapter.
'He did not speak to me. I asked myself, "Did he not hear me?"'
The singer said his co-star maintained the silent treatment all day.
'He went way in to where it's like, "Okay, now you're really going there. And that was what was needed,' Jamie recalled.
14. Kevin Hart & Dwayne 'The Rock' Johnson: Dwayne Johnson Shares Sweet Post About Friendship With Kevin Hart After Video Of Past Trolling Is Shared
It's not everyday that an action comedy becomes breeding grounds for an iconic celebrity friendship, but that most certainly happened when Dwayne Johnson and Kevin Hart worked together on 2016's Central Intelligence. What has since overshadowed the project itself is the electric chemistry between the actors, who have since reteamed for the Jumanji movies and the upcoming animated film, DC League of Super-Pets. After a video of their past trolling was shared, the Rock recently reflected on their epic friendship, and it's very sweet!
At this point, the duo have a long history of ripping on each other over social media and even during interviews. When SportsCenter compiled a video of some of their best moments, The Rock shared it, saying it had him "cracking up":
In the Instagram post, Dwayne Johnson shared the video and admitted that when they "get on a roll it's game over." Johnson said that he and Kevin Hart are "just two dudes who work hard and love giving each other shit." And if that doesn't perfectly describe their relationship, I don't know what does. Sponsored LinksA Game Where Everything Is AllowedBuzzDaily Winners
The video compilation includes a number of instances where they have made fun of each other, and it's definitely gone both ways over the years. The comedian famously took to Instagram before to parody the Hobbs & Shaw star's social media videos in the gym, whereas The Rock immortalized his co-star being super afraid of being on a camel. And chances are these two are going to continue to troll each other for a long time.
Although the pair enjoy ripping on each other, it's clearly out of a place of love. The former wrestler shared on the post that he's "always rooting" for Kevin Hart and calling him a brother for life. A day prior, Kevin Hart shared the same funny video calling it "fucking hilarious" and said its "always a good time with the big fella" along with also calling him his "brother for life."
I very much can imagine a future where this bromance echoes that of Steve Martin and Martin Short and we see them in their elder years joking with each other and signing up for more projects. You can just tell these two truly get along, and a lot of their bits together are effortlessly funny.
Of course, their biggest collaboration is on the Jumanji films, which have been massive box office draws. The producers behind the franchise already have "big plans" for another sequel when the time comes. Also, the franchise is already getting its own theme park ride in Italy.
We expect the hijinks to continue as DC League of Super-Pets gears up for release on May 20. The animated comedy among this year's upcoming movie releases will have Johnson voicing Krypto the Superdog and Kevin Hart as Ace the Bat-Hound. Catch these two during their next burns!
15. Karl Malone & John Stockton: These two men may have never won a championship on the court but their relationship off of the court will last much longer and is much more meaningful to these two Hall of famers.
Utah Jazz legend John Stockton described his relationship with former teammate Karl Malone as "inseparable."
In a two-part interview with Jason Whitlock, Stockton discussed his relationship with Malone, his career with the Jazz, and some of the great players he faced during his career.
In Stockton and Whitlock's first conversation, the Hall of Famer discussed having his season tickets suspended by his alma mater Gonzaga due to his refusal to wear a mask during the COVID-19 pandemic. In the second part of their conversation, the duo dove into Stockton's record-setting career.
Karl
Stockton and Malone Inseparable
Prior to their 18 years together suiting up as teammates with the Jazz, Stockton and Malone first met during the 1984 Olympics trials as two of the top college players in the nation.
Though neither player made the 1984 team, it sparked what would become a long relationship between the two superstars.
"We were going to the lunchroom one day and we don't know each other from Adam," Stockton remembered. "There was a table open and Karl and I just kind of pumped down next to each other and started the conversation and it was unbelievable how easy the conversation was."
The iconic pairing would later win two Gold Medals together as members of the Dream Team in 1992 in Barcelona and against the Summer Games in Atlanta in 1996.
"This kid from Spokane, that country kid from Louisiana, sat down at a table and had a conversation that lingered," Stockton said. "Generally, we enjoyed the talk."
Stockton was later selected by the Jazz with the 16th pick of the legendary 1984 NBA draft, while Malone was chosen with the 13th pick one year later.
After the Jazz drafted Malone, Stockton said he and his future pick and roll partner quickly reconnected.
"He comes to Salt Lake and he and I go walking through the Hogle Zoo up there together one day and just kind of reacquaint ourselves," Stockton said. "And we weren't wrong, there was something there we were going to be buddies."
Stockton and Malone combined for 25 All-NBA selections, 24 All-Star games, nine All-Defensive teams, and two trips to the NBA Finals.
But even after their Hall of Fame careers ended, Stockton said he and Malone continue to share a unique bond.
"He's literally inseparable for me as a brother," Stockton said of Malone. "I mean, we don't see each other every day, we talk occasionally on the phone, that term is probably overused, but there's nothing I wouldn't do for Karl Malone. And I think there's, I think he feels the same way."
Both Stockton and Malone were named to the NBA's 75th Anniversary team this year, and the two were honored during halftime at the All-Star game in Cleveland.
These are my top 15.. please tell me yours… Tommy Sotomayor!