NBA Owner Donald Sterling Gets Banned For Life.. So WTF Does That Mean Really?? (Video)
by Tj Sotomayor
April 29, 2014
7 comments
Jew Vs Jew Showdown
Today, a landmark decision was handed down by NBA new commissioner Adam Silver to his pretty much boss Donald Sterling.  The decision was that Donald would have to duck out of the NBA quietly while they try to figure out what to do with his Mc Fortune! (You know Screwge Mcduck… nevermind)
The Clippers owner is now banned for life from attending games and anything else and he was levyed a 2.5 million dollar fine which is the most allowed so this is good right.  Well See what I have to say about it!

So black people, as I said in the video, you have to run to white people to get them to handle your problems with white people.  Doesnt that strike you as odd?  Doesnt that make you feel just a little bit weak?  I mean when gays have an issue do they have to go to hetrosexuals for help?  When Jews have an issue do they come to blacks to make it right?
NOPE!
Yet here we are begging the white man to police the white man after he has done something to the black man! You know, like the Trayvon, Oscar Grants, Emmitt Til and every other case of injustice! I will leave it at that!!!
As far as the team goes, this is a slippery slope that the NBA is going down.  No one should have their team removed from them because of what they said in a private conversation.  I am sorry but this part of the equation is not right and what happens when blacks start owning teams and they decide that you cant own a team based upon your personal beliefs?  I would understand if they said this before he bought into the league but not now!
In closing, I actually think he should be allowed to keep the team and attend the games, but any player who thinks that the environment is now hostile and they want to leave, they can.  Thats a fair way of doing it but then, there is nothing about this thats fair, just smoke and mirrors! This was just another case of white people protecting white interest.  Very smart actually, sacrifice the one for the good of the whole!  Black could and should learn something from this but we won't!~T.S.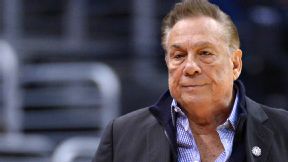 Kirby Lee/USA TODAY SportsAs part of his lifetime ban, Donald Sterling can't attend NBA games or practices, be present at any Clippers facility, or participate in any business or player personnel decisions involving the team.
Los Angeles Clippers owner Donald Sterling has been banned for life by the NBA in response to racist comments the league says he made in a recorded conversation.
NBA commissioner Adam Silver announced the discipline Tuesday, saying that Sterling has been fined $2.5 million and that the league will attempt to force a sale of the Clippers.
Silver also stated that Sterling cannot attend any NBA games or practices, be present at any Clippers office or facility, or participate in business or player personnel decisions.
"We stand together in condemning Mr. Sterling's views," Silver said. "They simply have no place in the NBA.
"This league is far bigger than any one owner, any one coach and any one player."
The fine will be donated to organizations dedicated to anti-discrimination and tolerance efforts that will be jointly selected by the NBA and the Players Association, Silver said.
Silver's announcement came three days after the revelation of an audio recording in which Sterling made racist comments to a woman believed to be his girlfriend. Silver confirmed that the voice on the recording was Sterling's.
"The views expressed by Mr. Sterling are deeply offensive and harmful," Silver said.
The woman on the recording cooperated with the NBA, as did a third person who was in the room when the tape was made, a source told ESPN.com's Ramona Shelburne. The woman verified to the league that it was her and Sterling on the tapes, according to the source.
The recordings that have been released were made last September, the source said.
Basketball Hall of Famer Magic Johnson, who was mentioned in the audio recording, took to Twitter to applaud Silver.
Commissioner Silver showed great leadership in banning LA Clippers owner Donald Sterling for life.

— Earvin Magic Johnson (@MagicJohnson) April 29, 2014
Former and current NBA players are very happy and satisfied with Commissioner Silver's ruling.

— Earvin Magic Johnson (@MagicJohnson) April 29, 2014