Super Thick White Racist Teacher Suspended After Calling Black Motorist A N*gger After Fender Bender! (Video)
by Tj Sotomayor
November 1, 2019
0 comments
But the real question here needs to be, did this nigga antagonize her?
A Pennsylvania middle school teacher has been placed on administrative leave after video of her yelling racist slurs in a parking lot was uploaded to Facebook.
The incident took place after a minor car accident between staff member Renee Greeley and Rasheed Noel, a parent of one of the students at the Drexel Hill school, as Noel dropped his son off last Thursday. WPVI reports that Noel began filming the encounter shortly after the accident, eventually uploading the footage to the social media site.
In the video, Greeley can be heard telling Noel, "You're probably on welfare, too" before Noel responds that he isn't at all. In fact, he makes six figures a year.
He then accuses her of making statements like that simply because he's "young and black," which he's not wrong about.
"That's right, because you're black," Greeley screams. "Always looking to milk the system. And you see me, a white woman, so you think I have money. Go back to your welfare Section 8 house. Go fuck off, you [N-word]."
Renee Greeley, a teacher in Delaware County, Pennsylvania, has been placed on leave after she was caught on video calling a parent, Rasheed Noel, the n-word and saying he is on welfare after a fender bender in the school parking lot where she works: https://heavy.com/news/2019/10/renee-greeley/ …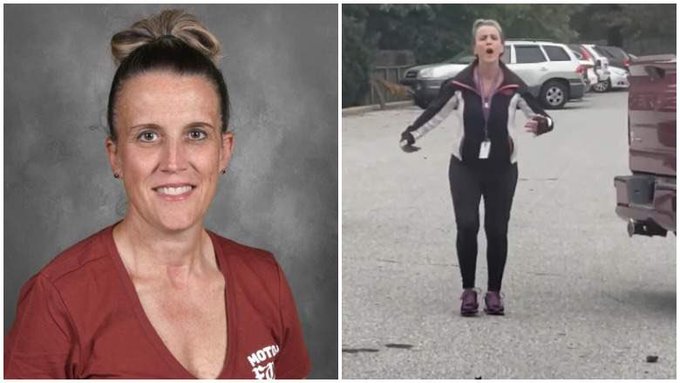 593:01 PM – Oct 11, 2019Twitter Ads info and privacy56 people are talking about this
Not long after the video appeared online, Upper Darby School District Superintendent Daniel McGarry confirmed that Greeley had been placed on administrative leave pending further investigation.
"Right now, this person is on administrative leave without pay. We're going to pursue it vigorously. The next steps are the staff member can elect arbitration," McGarry told CNN.
Wayne Dupree ✔@WayneDupreeShow
Suspended? This outrageous video should be enough to fire this woman ASAP, what the heck are they "investigating"

https://www.waynedupree.com/teacher-suspended-after-verbal-assault/ …[VIDEO] Pennsylvania Teacher Suspended After Hurling Racist Rant Against Black ManIf you give people enough time, they will show you exactly who they are and what they are about.waynedupree.com3369:30 AM – Oct 13, 2019Twitter Ads info and privacy224 people are talking about this
Upper Darby School District also released a statement, saying, "We took this report very seriously. As a result of the investigation, the teacher has been placed on administrative leave pending further investigation. We intend to vigorously address this issue…"
The statement continued, "The behavior, language, and treatment of one of our parents are not in keeping with our expectations of our teachers and staff. The comments and actions made by this teacher do not align with our core beliefs of Opportunity, Unity, and Excellence."

Middle school teacher from Pennsylvania started a racist rant in the school parking long aimed at a Black parent.

He filmed it all. The teacher got suspended but it's simply not enough.
She must be FIRED.1,0214:33 PM – Oct 12, 2019Twitter Ads info and privacy900 people are talking about this
Noel seems pleased with the response from the school district, writing on Facebook, "I commend the Upper Darby school district for taking quick action on this teacher at Drexel Hill Middle School. They are doing everything in their power to make sure people like this teacher become nonexistent in any school."
He added: "After meeting with the superintendent of Upper Darby school district and his staff, I'm here to say they absolutely care about their community. #ZeroTolerance"
Hopefully, Greeley has seen the last of the inside of a classroom. She should have plenty of time while on leave to reflect on what a terribly racist human being she is.