Man Murders His Girlfriend, 26, Mother Of 3 In Revenge After She Aborted His Child Without His Consent! (Video)
by Tj Sotomayor
May 13, 2023
0 comments
DALLAS – Police arrested and charged a man with the murder of a woman at a Dallas parking lot on Wednesday morning.
26-year-old Gabriella Gonzalez was walking through the parking lot S. Walton Walker Boulevard in West Oak Cliff when she was shot and killed.
Police say they determined that 22-year-old Harold Thompson was the shooter.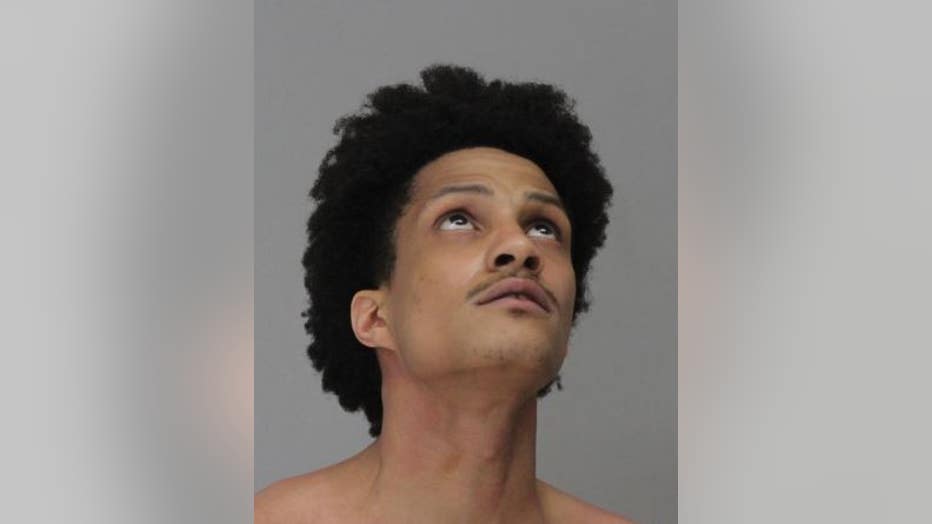 Harold Thompson (Source: Dallas Jail)
An arrest affidavit said that Thompson and Gonzalez were in a relationship.
Surveillance video from the area showed Thompson, who had an active family violence strangulation warrant, attempted to put Gonzalez in a choke hold, according to the court documents.
Gonzalez was able to get away from Thompson, but he then pulled out a gun and shot her one time in the head. He then fired more shots into her before running, according to the affidavit.
Police say Gonzalez had just returned from Colorado where she terminated her pregnancy.
The arrest warrant affidavit says Thompson was believed to be the father and he did not want her to get an abortion.
Thompson is currently in the Dallas Jail being held without bond.
A Texas woman was killed by her boyfriend after getting an abortion, police say
A screenshot taken from Google Street View shows the gas station parking lot in Dallas where Gabriella Gonzalez was fatally shot the morning after she'd gotten an abortion in Colorado.
Google Street View/Screenshot by NPR
A man fatally shot his girlfriend in Dallas on Wednesday because he was upset she'd gotten an abortion, court records allege.
Harold Thompson, age 22, is facing murder charges in connection with the death of 26-year-old Gabriella Gonzalez.
The pair were in a "dating relationship," according to an arrest affidavit, and were seen walking together in a gas station parking lot the morning after Gonzalez had traveled to Colorado to get an abortion.
Texas has outlawed abortion in nearly every stage of pregnancy since the overturning of Roe v. Wade in June 2022. Colorado abortion law is among the country's most permissive, allowing for legal abortions at nearly every stage of pregnancy, without waiting periods.Enlarge this image
Harold Thompson, pictured here in a mug shot, is accused of killing Gabriella Gonzalez.
Dallas County Police
A police investigator wrote that Thompson was believed to be the father of Gonzalez's child, and that he did not want her to end her pregnancy.
Video surveillance shows that Thompson put Gonzalez in a "choke hold" as they were talking, police say, but she "shrugs him off."
Thompson then pulled out a firearm and shot Gonzalez several more times before fleeing. Police declared Gonzalez dead at the scene.
Thompson is being held in a Dallas County jail. Court records show he will be represented by state-appointed counsel but did not list the name or contact information of his attorney.
A separate arrest warrant for Thompson, issued in March, was still active at the time of the shooting, court records show. The March affidavit does not name Gonzalez as the complainant, but the May affidavit describes her as "the victim" in the incident reported then.
The March affidavit states that Thompson had beat the victim, a woman pregnant with his child, several times throughout their relationship, including trying to strangle her and leaving her with a black eye.
The victim claimed that Thompson had "violently attacked her and left her bruised up" and remained "very fearful of the suspect," police wrote.
"She is scared of the suspect because he had made threats to harm her family and her children," the warrant states. "She has kids from a different relationship, and suspect is very jealous of the complainant's ex-boyfriend."
Court records show Gonzalez's sister, Mileny Rubio, was a witness to the shooting.
"He was so angry that she wanted to get away from him," she told local news outlet local news outlet KXAS. She added later, "I knew she wasn't OK but we couldn't get help, we didn't know how."
Gonzalez had just ended a tumultuous, four-month relationship with Thompson when the shooting occurred, her family said.