Eric Garners Death Ruled A Homicide So Will The NYPD Now Be Charged With Murder? (Video)
by Tj Sotomayor
August 1, 2014
38 comments
So Now What?
So, the NYC Medical Examiners Office has come out with something that we already knew to be true… That the NYC Police were the direct cause of the death of an unarmed citizen by the name of Eric Garner.  That an illegal choke hold coupled with people sitting on the man caused him to die in front of dozens of people in Staten Island.  So whats next?
Now that we know the cause of death in this case, will there be any justice for Eric Garner?
Not all cops are bad but then we shouldnt have to say that either now should we?  See the good cops had a chance to show up and do the right thing but because of this thing called a blue wall, not even the black cop sided with right even when she saw her fellow brother on the ground dead.  Even when she saw him being attacked nothing was done.  And not only that, she lied to help them try and cover this brothers death up.
Now will any of them post her home address, stalk her because of what she said like they have been trying to do over what I said?  I would say that the answer was no because they dont care about black unity or justice for black people, only screwing with me!
The officers in this case have also escaped the wrath of the black people who are stalking me so can anyone answer why that is so?  I hate to belabour the point but this really hurts my heart to watch them go at me in the name of a cause but not go at the people who I am speaking about or the cases, it literally makes no sense.
The cops should now be charged with homicide pure and simple and for that lets see if anything will be done.  All of the major details are below now lets see how many blacks go after the names involved in killing an innocent man!!!
Oh & P.S.  I want you all to remember that if it wasnt for the video, ALL OF THIS WOULD HAVE BEEN SWEPT UNDER THE RUG LIKE HUNDREDS OF YEARS OF BS DONE AGAINST BLACKS BY RACIST COPS!!!
Friday, Aug 1, 2014 • Updated at 4:06 PM EDT
The city medical examiner has ruled the death of Eric Garner, the 43-year-old father whose death in police custody sparked national outrage, a homicide, saying a chokehold killed him.
The medical examiner said compression of the neck and chest, along with Garner's positioning on the ground while being restrained by police during the July 17 stop on Staten Island, caused his death.
Garner's acute and chronic bronchial asthma, obesity and hypertensive cardiovascular disease were contributing factors, the medical examiner determined.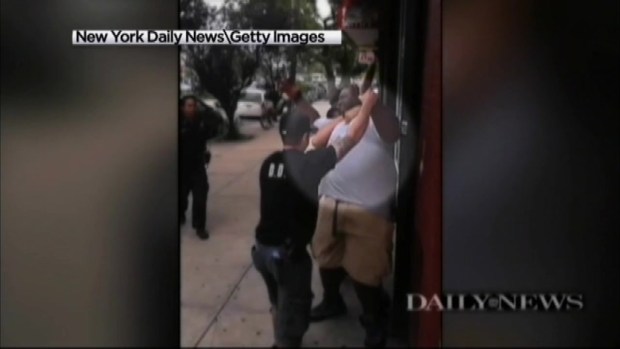 Hundreds of friends, family members and advocates gathered in Brooklyn to mourn 43-year-old Eric Garner, the man who died last week after the NYPD allegedly put him in a chokehold while making an arrest. Ida Siegal reports.
There was no immediate comment from the NYPD.  A spokesman for Richmond County District Attorney Daniel M. Donovan said his office had been contacted with the cause and manner of Garner's death but was waiting for the official death certificate and the autopsy report to be issued while its investigation was continuing.
The Rev. Al Sharpton said neither he nor the Garner family had a immediate comment, but that they would make a statement tomorrow at the headquarters of the National Action Network.
Did police and paramedics use proper procedures or excessive force in their arrest of Eric Gardner? Marc Santia talks to the experts.
Garner's family members and Sharpton, met with federal prosecutors last month to press for an investigation into his death. Sharpton said police violated his civil rights while arresting him for allegedly selling untaxed cigarettes, and that led to his death.
The U.S. attorney hasn't commented on the meeting with the Garners. Previously, Attorney General Eric Holder said the Justice Department is "closely monitoring" the investigation into Garner's death.
An amateur video shows a plainclothes police officer placing Garner in what appears be a chokehold during the arrest. In the video, Garner can be heard multiple times gasping, "I can't breathe!". Chokeholds are banned under NYPD policy.
Mayor de Blasio has said he was "disturbed" by the video.
One officer has been stripped of his gun and badge pending an internal NYPD investigation and another has also been placed on desk duty. Two paramedics and two EMTs have been placed on modified duty after allegedly failing to provide CPR in a timely manner.
The case has incited calls for sweeping police department reform. New alleged chokehold videos have emerged in its wake, including one involving an alleged fare beater and another involving a pregnant Brooklyn woman who claims she was put in a chokehold when she questioned officers' requests to move the site of her BBQ.
Police Commissioner Bill Bratton has said the officer appeared to have placed Garner in a chokehold and has ordered a top-to-bottom redesigning of use-of-force training in the NYPD.
In addition to running the National Action Network, Al Sharpton is a talk show host on MSNBC, which is owned by WNBC's parent company, NBCUniversal.