Former Astros Player Ends His Career After Being Caught On Video Beating His Girlfriend Down A Flight Of Stairs! (Video)
by Tj Sotomayor
March 14, 2018
0 comments
Hes A Piece Of Crap, BUT…
What should he do when he is told what to do to make up for his wrong and he does it?
A news channel in Corpus Christi, Texas, on Tuesday obtained video that reportedly shows a violent incident that involved a former Major League Baseball prospect and his girlfriend.
The KRIS TV report said police identified the man in the video as Danry Vasquez, a former prospect for the Houston Astros. The man in the 2016 video could be seen striking the woman several times in a stairwell at Whataburger Field, home to the Double-A Hooks, the report said.
The TV station obtained the Aug. 2 video through an open records request.
Vasquez, a Venezuelan national, was once a potential star. He signed a contract with a $1.2 million signing bonus with the Detroit Tigers when he was 16 years old, before being traded to the Astros.
He was 22 at the time of the video and later arrested and charged with a misdemeanor, the report said.
Vasquez's case has since been dismissed after he completed a plea deal with the district attorney's office, in which he had to pay a fine and attend classes, the station reported.
He was subsequently released by the organization, the station reported.
Vasquez signed with another team in Pennsylvania following the alleged domestic violence incident, the station reported. That team, the Lancaster Barnstormers, announced he had cut ties with the player the day after the video was released.
The Associated Press contributed to this report.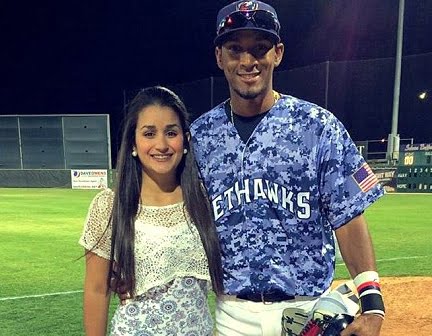 DANRY VASQUEZ' GIRLFRIEND FABIANA PÉREZ WADSKIER
Meet Fabiana Pérez Wadskier; she is or was the girlfriend of Venezuelan minor league baseball player Danry Vasquez. The outfielder born in Ocumare del Tuy, Miranda, Venezuela; he started his career with the Detroit Tigers in 2010; however, he never played a single game, instead, he joined the West Michigan Whitecaps of the Class A Midwest League.
Detroit traded him to the Astros in 2013, and Houston assigned him to Quad Cities River Bandits of the Midwest League; a year later he played for the Lancaster JetHawks. In 2016, he was playing for the Corpus Christi Hooks; but then that awful domestic violence incident happened and the Astros eventually decided to release him.
He was ready to start the 2018 season with the Lancaster Barnstormers, but Lancaster released him. The decision came after the footage of the 2016 domestic assault incident was released.
The identity of Danry Vasquez' girlfriend was unknown; but fabWags found out that her name is Fabiana Perez Wadskier, 21.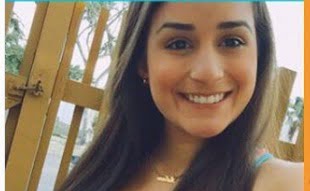 Fabiana Perez from Caracas, Venezuela, currently lives in Miami; as of 2017, Fabiana was working at Old Navy at Miami International Mall; her mom Fabiola proud posted a photo when Fabiana was named Brand Associate of the Month.
It is unclear if Fabiana and Danry are still together. Hopefully, she dumped him.