15 Films In Where The Actors Really Had Sex! (Video)
by Tj Sotomayor
September 5, 2019
0 comments
Working as an actor requires being open to some crazy things. Having to film a love scene can give even the most courageous and reputable actors some stage fright. But imagine if you had to do it for real? I mean, full on penetrative intercourse. You'd think it would be illegal, but plenty of movies have incorporated real sex between actors in order to establish a sort of genuine authenticity to the film.
While some may think that esteemed actors engaging in that kind of behavior for a movie is gratuitous and inappropriate, many actors have agreed to the conditions. Racy and controversial director Lars von Trier has utilized unsimulated scenes for several of his films, including his movie Nymphomaniac.
These types of scenes in film can be crucial to the story that writers and directors are trying to tell. But at what point is the boundary between real and fantasy crossed? For a lot of artists, both behind the scenes and in front of them, there is no line.
This is a roundup of some of the most infamous films where actors really did it on sets for the camera. Keep reading to find out who they are.Nymphomaniac: Volume I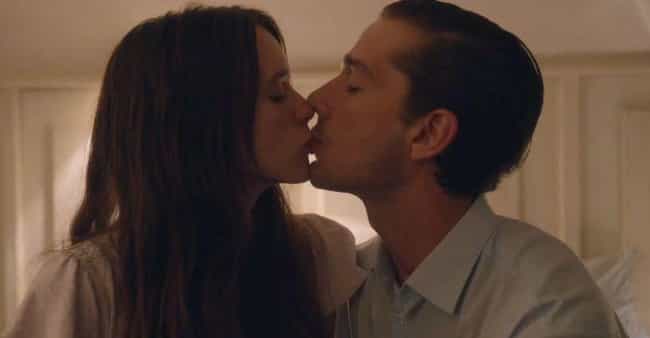 Lars von Trier's controversial two-part Nymphomaniac featured no small amount of unsimulated scenes. When actor Shia LaBeouf signed on as a love interest opposite Stacy Martin, rumors spread about their performance for the film. Lars von Trier had already mentioned his film would feature the real deal. LaBeouf initially said he agreed to participate in the scenes.
However, when the film finally premiered, it was revealed the actual deed was performed between two adult film actors. LaBeouf and Martin's bodies were superimposed with CGI for those scenes.
Actors: Uma Thurman, Willem Dafoe, Shia LaBeouf, Christian Slater, Stellan Skarsgård, + more
Released: 2013
Directed by: Lars von Trier
see more on Nymphomaniac: Volume IFerrari S.p.A. rising to #19The Best Global BrandsLove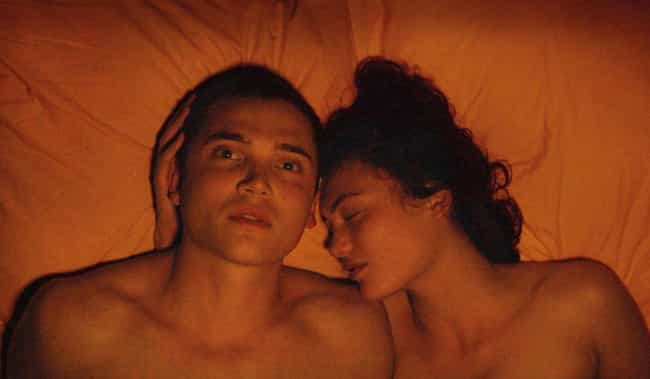 Gaspar Noé's 2015 film Love featured real love between actors Karl Glusman and Aomi Muyock. But Noé took his romance film to the next level by producing it in 3D! Love is first and foremost about intercourse in 3D and only secondly about the dramatic love story between the two protagonists.
Most of it was not choreographed and Noé admitted he hoped his film would make men and women both feel, well, "excited."
Actors: Karl Glusman, Klara Kristin, Aomi Muyock
Released: 2015
see more on LoveThe Weather Man rising to #18The Worst Movies With Great TrailersLittle Ashes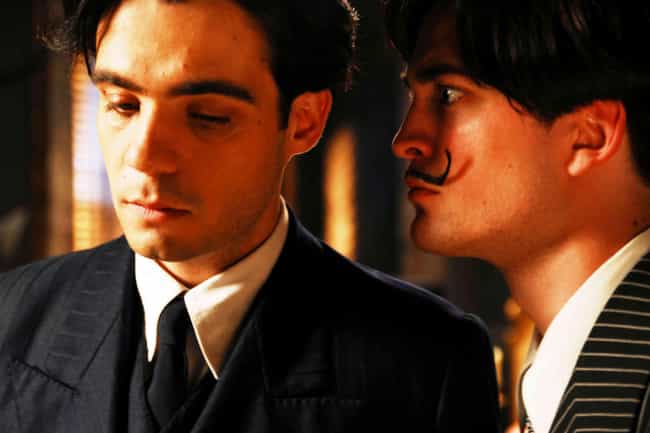 Robert Pattinson's "O" face (as Salvador Dalí in Little Ashes) seemed a little too real to audiences. And they weren't wrong. Pattinson admitted he touched himself onscreen for the scene in order to make it realistic.
According to Pattinson, faking the scene "just doesn't work… so I pleasured myself in front of the camera."
Actors: Robert Pattinson, Arly Jover, Matthew McNulty, Simón Andreu, Esther Nubiola, + more
Released: 2008
Directed by: Paul Morrison
see more on Little AshesReservoir Dogs rising to #4The Best Movies Where Nothing Really HappensCaligula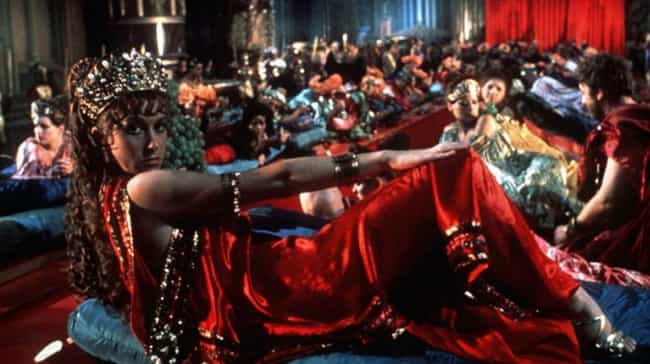 Penthouse founder Bob Guccione produced the intense historical drama Caligula about the fall of the Roman emperor of the same name. It can't be all that surprising the founder of an adult men's magazine wanted to make a movie with unsimulated love scenes. The movie, starring Helen Mirren and Malcolm McDowell, featured after-the-fact scenes Guccione filmed in private.
Although the leads of the film didn't do it with one another, Guccione's personal Penthouse Pets filmed unsimulated scenes for post-production.
Actors: Helen Mirren, Peter O'Toole, Malcolm McDowell, John Gielgud, Patrick Allen, + more
Released: 1979
Directed by: Tinto Brass
see more on CaligulaRescue Dawn falling to #19Brutal War Movies That Absolutely Got It RightThe Brown Bunny
The Brown Bunny is the independent Cannes film that made Chloë Sevigny a household name. It's also the film where she notoriously gave costar and director Vincent Gallo very real and very graphic oral treatment. Many were suspicious about the authenticity of the scene between the two stars, but Sevigny herself has admitted it is indeed real.
The movie polarized audiences at Cannes, but it has lived in infamy for the scene that blew Sevigny onto the Hollywood landscape as a fashion icon and successful actress.
Actors: Chloë Sevigny, Cheryl Tiegs, Vincent Gallo, Rick Doucette, Mary Morasky, + more
Released: 2003
Directed by: Vincent Gallo
see more on The Brown Bunny40 people have voted onMovies That Took A Hard Turn And Left Audiences Completely BaffledAntichrist
Yet another Lars von Trier film, Antichrist stars Willem Dafoe and Charlotte Gainsbourg as two characters struggling to come to terms with their toddler's accidental death. The film takes on a whole new definition of horror, and features intense love scenes between Dafoe and Gainsbourg.
One scene in particular has been credited as unsimulated. However, it did not feature the two actors, but instead utilized body doubles for the scene.
Actors: Willem Dafoe, Charlotte Gainsbourg, Storm Acheche Sahlstrøm
Released: 2009
Directed by: Lars von Trier
see more on AntichristThe Fascinating Ancient History collection10 Mysterious Ancient Inventions Science Still Can't ExplainSweet Sweetback's Baadasssss Song
Sweet Sweetback's Baadasssss Song is known for a number of things (aside from it's ridiculously long title), primarily its subversion of the "blacksploitation" films that plagued the '70s. Melvin Van Peebles, who is almost entirely responsible for all creative aspects of the film, starred in the movie about an African-American man on the run from the white police.
Van Peebles also notoriously engaged in the real deal for the film's most wild scenes.
Actors: John Amos, Melvin Van Peebles, Rhetta Hughes, Nick Ferrari, West Gale, + more
Released: 1971
Directed by: Melvin Van Peebles
see more on Sweet Sweetback's Baadasssss SongThe Intimate Etiquette collectionStrange Rules And Little-Known Etiquette For Nudist ColoniesPink Flamingos
Pink Flamingos starred a drag queen named Divine, who has been labeled "the filthiest person alive." This movie is mostly known for its crude scenes and even cruder love scenes. In likely the film's most famous moment, Divine services a man who is playing her son in the film.
The movie was banned in several countries, including Australia and Canada.
Actors: John Waters, Divine, Mink Stole, Edith Massey, David Lochary, + more
Released: 1972
Directed by: John Waters
see more on Pink FlamingosThe Wow! That's Fascinating collection9 Perfectly Good Reasons Why Public Toilet Seats Are U-ShapedThe Idiots
Lars von Trier appears again with his controversial 1998 film The Idiots. The story is about a group of friends who give up their inhibitions and decide to act on their "idiot" qualities. Although most of the scenes, which include some group activities and not a whole lot of clothes (read: none), are actually faked, there is a particular scene that shows unsimulated action. You can't see the couple's faces, but you can see their ~ other ~ parts up close and personal in one of the group scenes.
The film got the okay for a theatrical release, but future editions of the scene were pixelated.
Actors: Lars von Trier, Nikolaj Lie Kaas, Paprika Steen, Anne Louise Hassing, Bodil Jørgensen, + more
Released: 1998
Directed by: Lars von Trier
see more on The IdiotsThe Return of the Living Dead falling to #912 Horror Films Where You Gleefully Root for the Villain9 Songs
Michael Winterbottom's 9 Songs came under fire for featuring real intercourse between actors Kieran O'Brien and Margo Stilley. And not just once – a few times, and in different angles.
While production filmed nine live performances from prominent rock bands, it's mostly remembered for the deed.
Actors: Alex Kapranos, Margo Stilley, Kieran O'Brien, Michael Nyman, Nick McCarthy, + more
Released: 2004
Directed by: Michael Winterbottom
see more on 9 SongsThe The Universe of Marvel Comics collectionInsanely Gory Moments in Marvel Comic History You Can't UnseeLie With Me
Lie with Me's intimate scenes looked pretty realistic to audiences. So much so, in fact, people started probing about their authenticity. Lauren Lee Smith and Eric Balfour starred as lovers in the film, and both eventually owned up to the fact their scenes were actually unsimulated.
The decision shocked critics mainly because both actors are fairly famous and well-known.
Actors: Eric Balfour, Lauren Lee Smith, Kristin Lehman, Mayko Nguyen, Don Francks, + more
Released: 2005
Directed by: Clement Virgo
see more on Lie with Me35 people have voted onThe Most Powerful Weapons In The Marvel Universe, Ranked By Destructive ForceWetlands
Wetlands is not a film for the faint of heart. It stars Carla Juri as an extremely "active" teenager who refuses to uphold even the most fundamental hygienic standards of cleanliness. She also engages in some lewd activities, including gettin' down with vegetables.
In one scene, a group of men relieve themselves on top of a pizza, which was in no way sugarcoated for the big screen.
Actors: Meret Becker, Axel Milberg, Edgar Selge, Harry Baer, Christoph Letkowski, + more
Released: 2013
Directed by: David Wnendt
see more on Wetlands80sTV37 people have voted onThe Most Bizarre Very Special Episodes of Classic SitcomsShortbus
A group of young people in New York trying to find themselves emotionally. Sounds like the plot of Rent, right? Nope, it's the drama Shortbus. Known primarily for featuring unsimulated scenes, the movie is about an array of quirky young people who meet at a "social" club on a weekly basis to "connect" with people. The actors were encouraged to really release, especially for the final group scene.
Director John Cameron Mitchell can be seen in the final scene engaging in the fun. Mitchell cited team solidarity as his reason for participating.
Actors: Daniela Sea, Justin Vivian Bond, Miriam Shor, Yolonda Ross, Jeff Whitty, + more
Released: 2006
Directed by: John Cameron Mitchell
see more on ShortbusCuba Gooding, Jr. rising to #2Good Actors Who Make Bad Movies NowIntimacy
Intimacy tells the story of two strangers who engage in anonymous trysts. Actors Mark Rylance and Kerry Fox participated in unsimulated scenes for the roles. The film, which features Fox giving Rylance the oral treatment, is surprisingly considered mainstream.
Actors: Marianne Faithfull, Timothy Spall, Mark Rylance, Kerry Fox, Susannah Harker, + more
Released: 2001
Directed by: Patrice Chéreau
see more on Intimacy14 people have voted onThe Most Gruesome And Horrible Things Cenobites Have Done In The Hellraiser UniverseIn The Realm Of The Senses
In the Realm of the Senses is a Japanese drama about a man who leaves his wife for another woman. The two engage in various experimental bedroom situations, but it's the ending that shocked viewers most. Eiko Matsuda's Sada ends the life of her lover, Kichizō, by choking him as part of their love routine. She then proceeds to castrate him and carry him inside her for several days.
While the castration was nowhere near real, the very graphic scenes were, causing audiences to feel a little sickened by the whole thing.
Actors: Taiji Tonoyama, Tatsuya Fuji, Meika Seri, Akiko Koyama, Aoi Nakajima, + more
Released: 1976
Directed by: Nagisa Oshima
see more on In the Realm of the Senses